The Lux Style Awards 2014 Nominations are in… Love it or Hate it. Question it or believe in it. One thing is for sure, Lux Style Awards is the most prestigious and well established forum of its kind in the country today and our fashion and entertainment industries would be lesser if it did not exist.
And now here we are… the 13th Lux Style Awards despite the usual controversies that surround any award show in the world is not only back but seems stronger than before. Thank God for Lux's resilience over the years… After years of watching the show on Television, and then sitting in the audience, I had the honour of being invited to the fashion jury this year. In many ways it was eye opening.
The panel comprised of some of the biggest names in fashion & lifestyle journalism in Pakistan, representing established publications. Given the rise of the digital medium, bloggers had been invited to this panel for the first year. As a freshie, I did spend hours going through shoots and shows from 2013 before I landed in the jury room full of people who spoke fashion as their first language.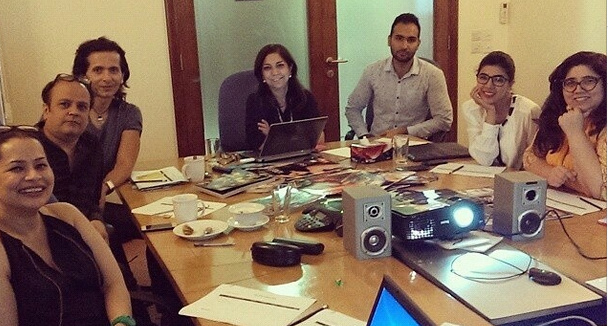 For someone who walked in not exactly knowing what to expect, one thing is for clear – no one person can decide the fate of a nominee let alone a winner. The second thing that is to be expected is a LOT of arguments (not the I'll kill you types but everyone does pitch in for anything they feel strongly about), the third thing is that nothing is to be taken for granted, if needed anything and everything will be questioned be it the categories, or the nominees or the portfolios or those who never submitted theirs.
I just wish people paid more heed to their portfolios, the quality of portfolios, formats etc was quite disappointing and while I understand the 'work' speaks for itself etc etc,  well presented work automatically commands more attention.
Anyway, long story short, under the supervision of the 'auditors' we rated each nomination for different attributes and interestingly no one knows who came on top because we haven't really seen the other jurors sheets. The show will be exciting to watch to see how comes out on top this year.
For now, enjoy the nominations:
NOMINATIONS FOR FASHION AND ENTERTAINMENT CATEGORIES
Fashion Nominations
Model of the Year (Female)
Amna Ilyas
Cybil Chowdhry
Fouzia Aman
Nooray Bhatty
Rabia Butt
Model of the Year (Male)
Abbas Jaffri
Athar Amin
Jahan-e-khalid
Rizwan Jaffri
Waleed Khalid
Best Fashion Photographer
Abdullah Harris
Guddu Shani
Maram and Abroo
Nadir & Maha from NFK Photography
Rizwan ul Haq
Best Hair and Make-up Artist
Maram and Abroo
Nabila
Nighat Misbah for Depilex
Raana Khan
Achievement in Fashion Design – Pret
Body Focus by Iman Ahmed
Khaadi
SanaSafinaz
Sania Maskatiya
Sublime by Sara Shahid
Achievement in Fashion Design – Luxury Pret
Ali Xeeshan
Elan
SanaSafinaz
Sania Maskatiya
Shehla Chatoor
Achievement in Fashion Design – Menswear
Ahmed Bham
Fahad Hussayn
Hassan Sheheryar Yasin
Nauman Arfeen
Achievement in Fashion Design – Lawn
Elan
Fahad Hussayn
Faraz Manan
SanaSafinaz
Sania Maskatiya
Best High Street Brand
Daaman
Gulabo
Khaadi
MK Nation
SanaSafinaz
Best Emerging Talent
Amna Babar (Best Female Model)
Azeem Sani (Best Fashion Photographer)
Mahgul Rashid for Nasreen Sheikh (Achievement in Fashion Design – Luxury Pret)
Natasha's Salon (Best Hair and Make up)
Tabesh Oza (Best Male Model)
Film Nominations
Best Film
Main Hoon Shahid Afridi (Producer: Humayun Saeed & Shahzad Nasib)
Siyaah (Producer: Imran Raza Kazmi)
Waar (Producer: Hassan Waqas Rana)
Zinda Bhaag (Producer: Mazhar Zaidi)
Best Director
Syed Ali Raza Usama for Main Hoon Shahid Afridi
Azfar Jafri for Siyaah
Bilal Lashari for Waar
Meenu & Farjad for Zinda Bhaag
Best Actor
Gohar Rasheed for Seedlings
Humayun Saeed for Main Hoon Shahid Afridi
Khurram Patras for Zinda Bhaag
Mohib Mirza for Seedlings
Shaan Shahid for Waar
Best Actress
Aamina Sheikh for Josh
Aamina Sheikh for Seedlings
Amna Ilyas for Zinda Bhaag
Hareem Farooq for Siyaah
Mahnoor Usman for Siyaah
Music Nominations
Best Album
Mushroom Cloud Effect by Adil Omar
Piyas by Jal
Sargoshiyan by Saturn
Yaran Di Toli by Rizwan Ali
Best Music Video Director
Adeek P K for Waris Shah by Asrar
Adnan Kandhar for Mein Sufi Houn by Sketches
Adnan Malik for My Punjabi Love for you by Bambu Sauce
Yasir Jaswal for Akhri Bar Milo by Shehreyar Mirza
Yasir Jaswal for Bolay by Uzair Jaswal
Best Original Sound Track
Aaron Haroon Rashid for Burqa Avenger
Hassan Waqas Rana for Waar
Humayun Saeed & Shahzad Nasib for Main Houn Shahid Afridi
Mazhar Zaidi for Zinda Bhaag
Promax Media for Mujhe Khuda Pay Yaqeen
Best Emerging Talent
Bell
Disbelief
Fables of Cantt
Shehreyar Mirza
Soch
Song of the year
Bolay by Uzair Jaswal
Har Zulm by Sajjad Ali
Jeet by Qayaas
Khair Mangdi by Bilal Saeed
Malaal by Rahat Fateh Ali Khan
TV Nominations
Best TV Serial Satellite
Aunn Zara on A Plus (Producer: Shahzad Chaudhry)
Daagh on ARY Digital (Producer: A n B Productions)
Nanhi on Geo Entertainment (Producer: Iqbal Ansari)
Rehaai on HUM TV (Producer: Momina Duraid)
Ullu baraye farokht nahi on HUM TV (Producer: Nouman Masood)
Best TV Actor Satellite
Fahad Mustafa for Daagh on ARY Digital
Fahad Mustafa for Kankar on HUM TV
Fawad Khan for Zindigi Gulzar Hai on HUM TV
Nauman Ejaz for Rehaai on HUM TV
Nauman Ejaz for Ullu Baraye Furokth Nahi on HUM TV
Best TV Actress Satellite
Irsa Ghazal for Ullu Baraye Furokth Nahi on HUM TV
Meher Bano for Daagh on ARY Digital
Sajal Ali for Nanhi on Geo Entertainment
Samina Peerzada for Rehaai on HUM TV
Sanam Saeed for Zindagi Gulzar Hai on HUM TV
Best TV Serial Terrestrial
Daag -e-Nidamat on PTV Home (Producer: Abdullah Kadwani & Humayun Saeed)
Dil Awaiz on PTV Home (Producer: Farooq Mengal)
Kami Reh Gai on PTV Home (Producer: Khawar Azhar)
Kuch Is Tarha on PTV Home(Producer: M&M Productions??????)
Mar Jaen Hum Toh Kya on ATV (Producer: Miraj ud din)
Best TV Actor Terrestrial
Faisal Rehman for Daag -e- Nadamat on PTV Home
Mohib Mirza for Roshni Andhera Roshni on ATV
Nauman Ejaz for Dil Awaiz on PTV Home
Nauman Ejaz for Kami Reh Gai on PTV Home
Noor Hassan for Kuch Is Tarha on PTV Home
Best TV Actress Terrestrial
Aamina Shaikh for Kuch Iss Tarha on PTV Home
Anoushay Abbasi for Roshni Andhera Roshni on ATV
Mehreen Raheel for Daag -e- Nadamaat on PTV Home
Mehvish Hayat for Kami Reh Gai on PTV Home
Sana Nawaz for Dil Awaiz on PTV Home
Best Writer
Amna Mufti for Ullu Bar-e-Furokht Nahi on Hum TV
Faiza Iftikhar for Aunn Zara on A Plus
Farhat Ishtiaq for Rehaai on Hum TV
Mona Haseeb for Nanhi on Geo TV
Umera Ahmed for Zindagi Gulzar Hai on Hum TV
Best Director
Haseeb Hasan for Nanhi on Geo TV
Haissam Hussain for Aunn Zara on A Plus
Kashif Nisar for Ullu Bar-e-Furokht Nahi on Hum TV
Mehreen Jabbar for Rehai on Hum TV
Sultana Siddiqui for Zindagi Gulzar Hai on Hum TV