If you're going to be a bride this season, or if you have a wedding to attend this Winter you are probably in the process of finalizing your outfits. As the PLBW2014 wrapped up, we have compiled a simple guide summarizing the Bridal trends this season that will help you be spot on trend and stand out in the crowd.
The first question that is probably popping in your mind is the colour you should be considering. As anticipated, the PLBW2014 showcase was a rainbow of colours however some stood out clearly from the rest. Here is our colour guide:
COLOUR GUIDE BRIDAL TRENDS 2014:
Keeping in mind the Winter season, two colours will rule Bridal Couture: Royal Blue and Rich Red. Go absolutely opulent mixing these rich hues with gold and make a sparkling statement wherever you may be.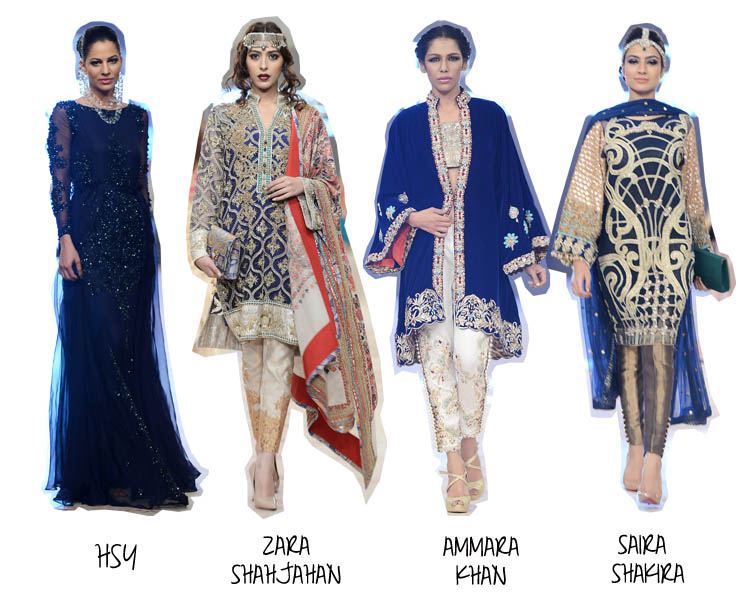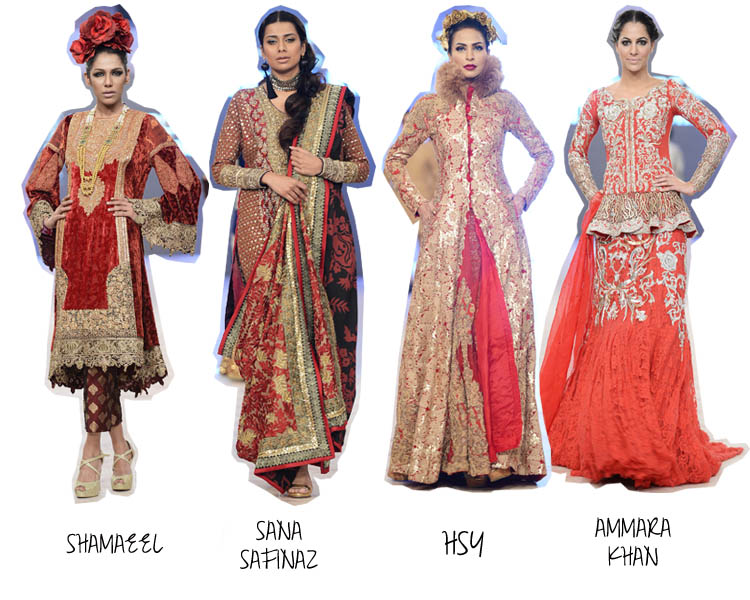 If you're not the one for statement colours, try more subdued hues of Corals (more like peaches and pinks) and White. The two seemed to be a popular choice of both the designers from Karachi and Lahore.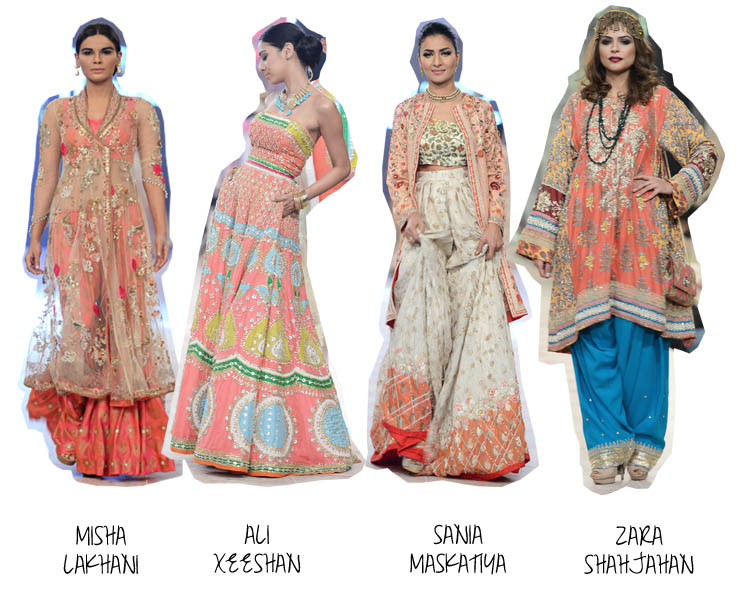 FABRIC TRENDS FOR BRIDALS 2014:
When it comes to fabrics, in addition to the usual, the designers from the newest to the most established seemed to be trying their hand at velvet this year. The only other fabric to significantly register was 'sheer' whether organza or net or good old chiffon.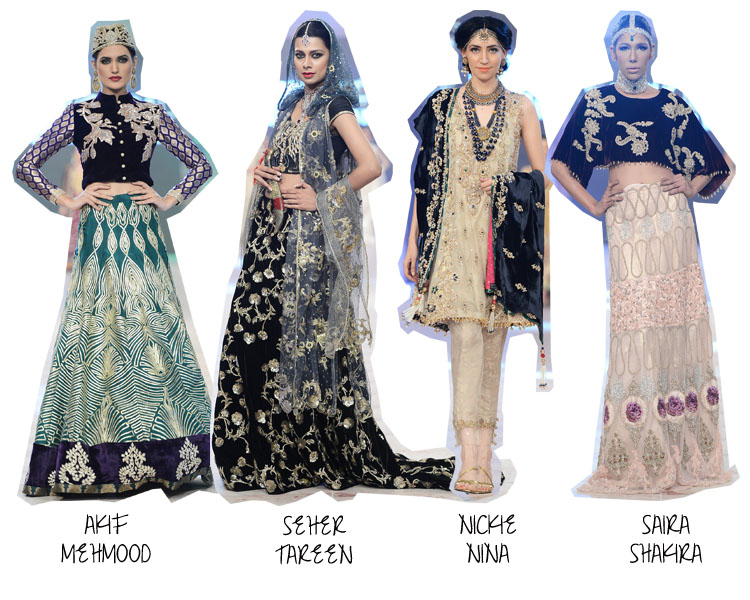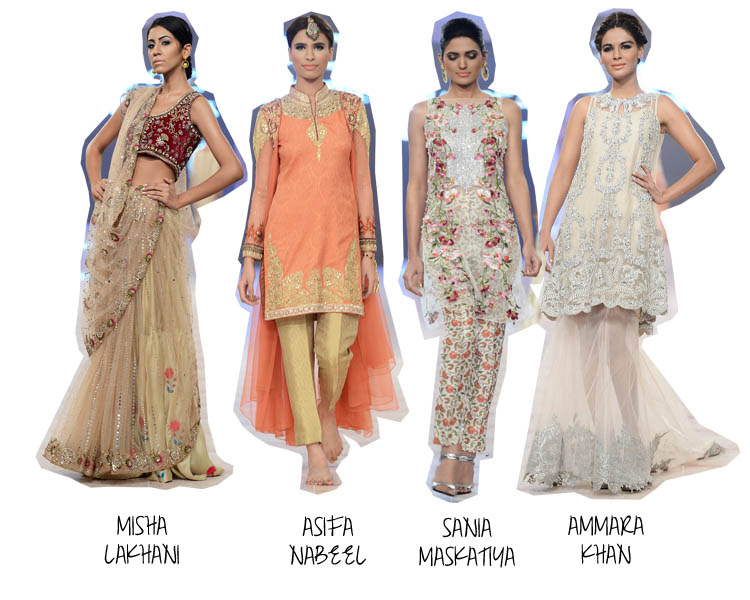 The fun twist in fabric was the silk digital prints – which added richness to the outfits without the usual heavy embellishment.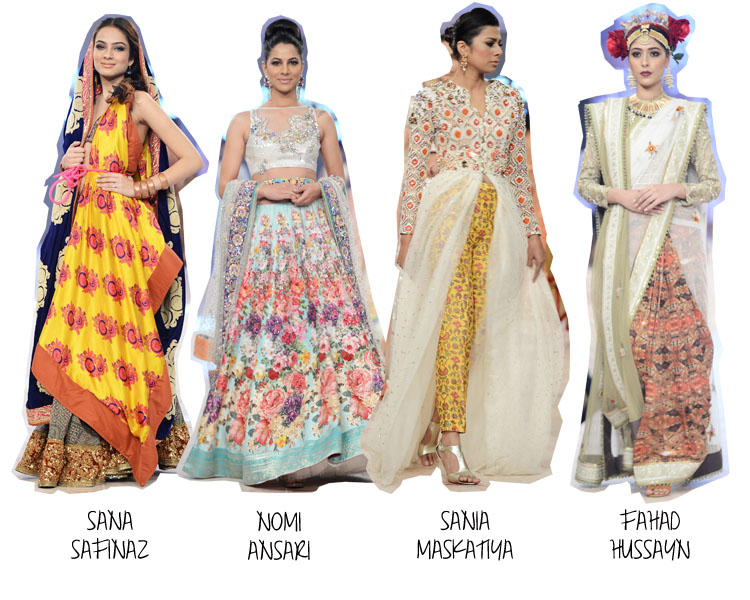 EMBELLISHMENTS FOR 2014 BRIDALS:
Traditional embellishments are predictable when it comes to bridals. The regular adda work was abundant at the PLBW2014 however, two trends that the designers had really experimented were 'floral' and 'folk'. Designers like Nomi Ansari, Sania Maskatiya and Misha Lakhani drew inspiration from the Flora while Zara Shahjahan, Fahad Hussayn and Sana Safinaz turned to the more ethnic motifs and patterns. The designers also easily merged the two to create memorable looks.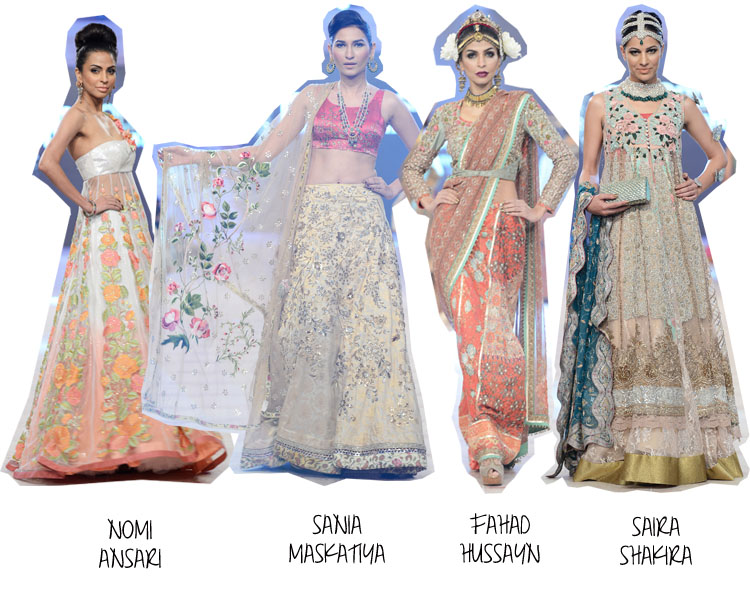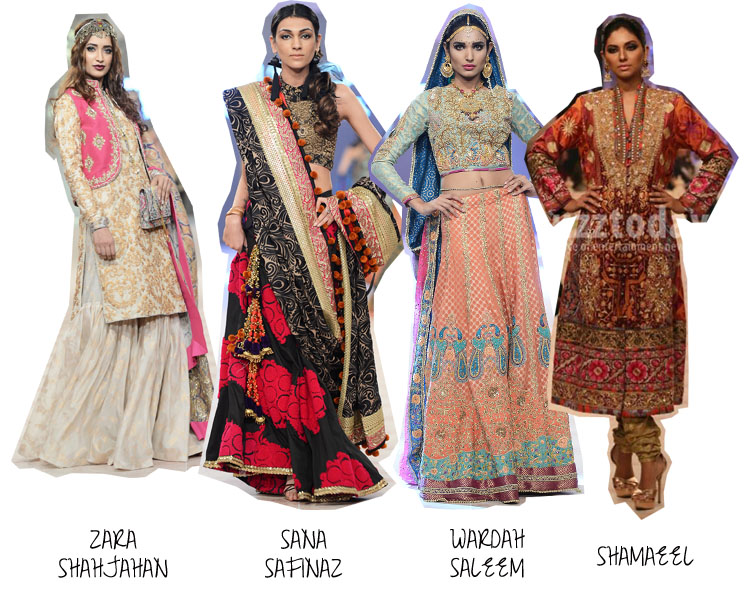 THE SILHOUETTES FOR 2014 BRIDALS:
We are officially in transition as far as the Shalwar Kameez's go. Designers at PLBW 2014 experimented with short shirts, long shirts, mid length shirts… mixing them with cigarette pants, flappy trousers and even an attempt or two at the revival of shalwar. So it's safe to say, that for Shalwar Kameez, if you follow any of the tips above, whatever you go for could be very trendy and in style.
Beyond that, the gown is here! Gown you ask? Well call it a dress, a gown, a head to toe garment… whatever, but these have landed which means you are safe to mix western silhouettes and wear them to weddings without the fear of looking like you're trying to hard.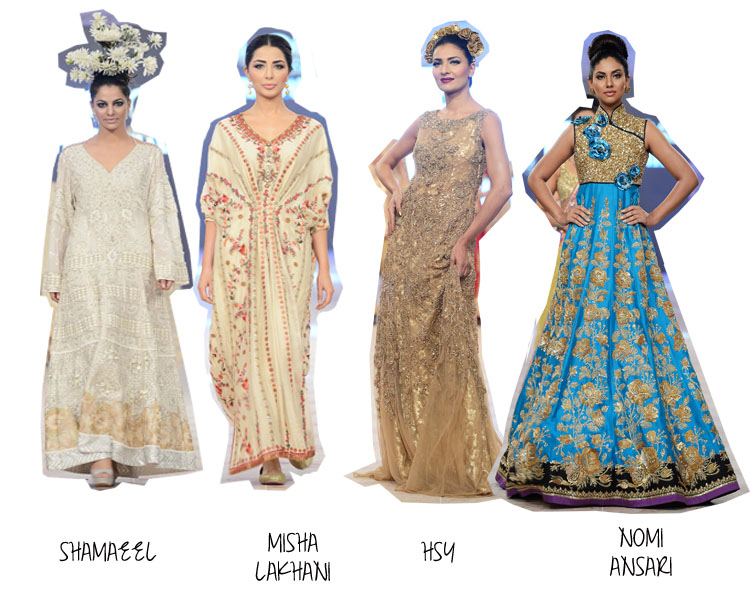 Our desi Maxi skirt, the fabulous lehnga is here to stay. Whether you pair it with a choli or a long shirt, go for a full volume lehnga.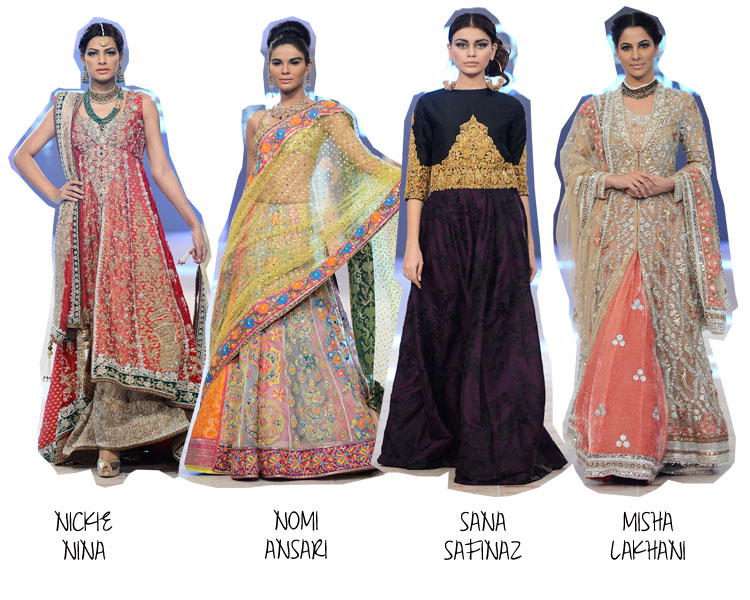 This wraps up our quick and dirty crash course in all things trendy this bridal season! More on PLBW2014 to follow soon. x