CONATURAL, the all natural beauty products manufacturer, recently launched an absolutely adorable gift box for her AND for him! The brand has been creating these products from the best of natural products sourced from reputed international sources and has been formulating and packaging them here right here in Pakistan. The growing distribution network is an indication of how CONATURAL is gaining popularity… The co founders of the brand, Rema and Myra Quraishi had a quick tete a tete with SiddySays.
How did you guage the potential to launch organic/ natural beauty products in Pakistan?
Myra and I realised how often products are used without any knowledge of product composition and ingredients. People are easily convinced into buying products which can be  misleading or harmful in the long term. The premise upon which CONATURAL was launched was to inform people of what they are using on their skin and hair and what is the cause and effect. Our mission is to change the way women and men buy skin and hair care products forever. We want to help eliminate people's exposure to toxic chemicals in cosmetics and help educate them on the benefits of natural and organic ingredients. We realised the gap in the market for natural and organic products and found that a lot of the 'natural' products being sold in the market were actually not natural and contain chemicals such as Parabens, Triclosans, Artificial Musks, Phthalates, SLs, PPD, petroleum jelly and silicones.
Where are your products made/ sourced from?
Our Dead Sea products are sourced from Jordan, and we source the finest essential oils, which form a vital ingredient to all our products, from certified producers all over the world. We have a laboratory for  R&D and a factory based in Lahore.
Women are into beauty products but you encourage men to use them too, how has the response been?
Absolutely, we have had a fantastic response from men also. Our whitening cream, Dead Sea mud mask, Dead Sea Body scrub, Intense Growth and Intense Luster are doing very well with male customers. We encourage men to opt for natural products in the same way as we do with female clients and feel that nowadays men are equally keen to invest in their skin, hair and overall wellbeing. We've had a very good response for the CONATURAL Gift boxes FOR HIM too!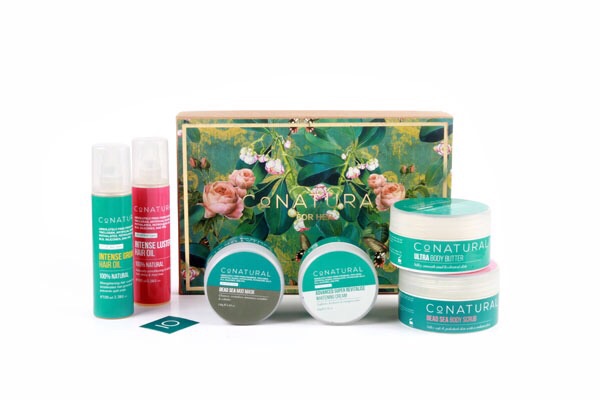 FOR HER
CONATURAL LARGE gift box FOR HER
(Intense Luster Oil, Intense Growth Oil, Advance Super Revitalise Whitening Cream, Ultra Body Butter, Dead Sea mud mask and Dead Sea body scrub)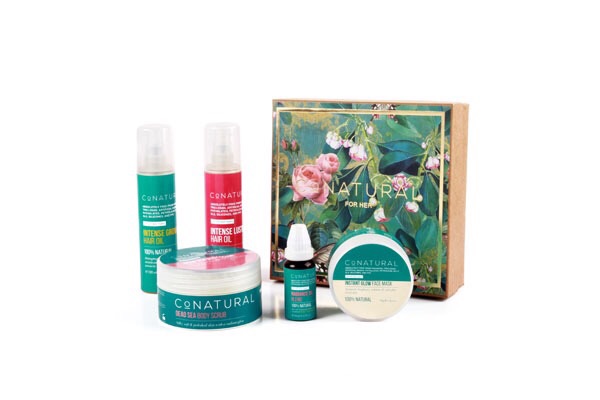 FOR HER
CONATURAL gift box FOR HER
( Intense Luster Oil, Intense Growth Oil, Dead Sea Body Scrub, Instant Glow Face mask and radiance oil)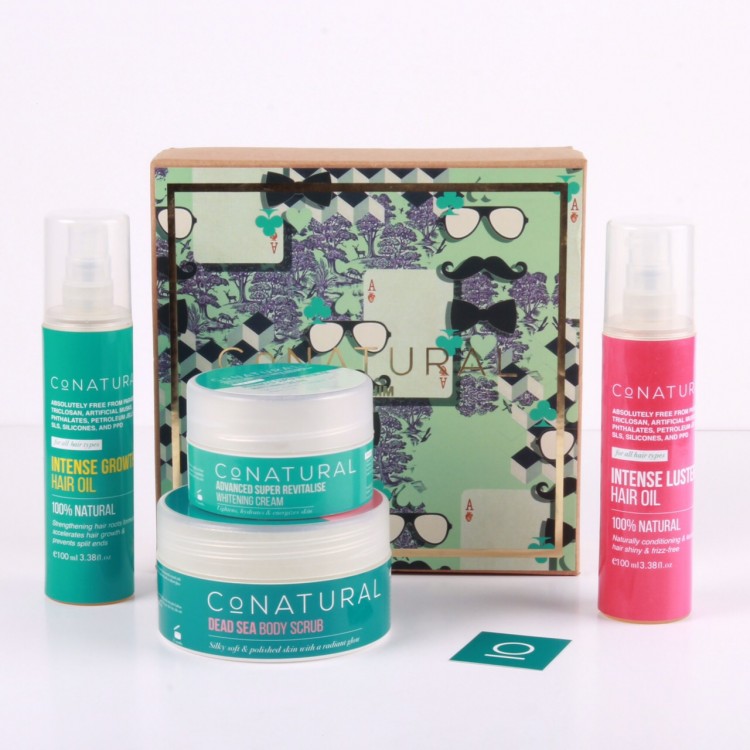 FOR HIM
CONATURAL gift box FOR HIM
(Intense Luster oil, Intense Growth Oil, Dead Sea Body Scrub and Advance Super Revitalise Whitening Cream)