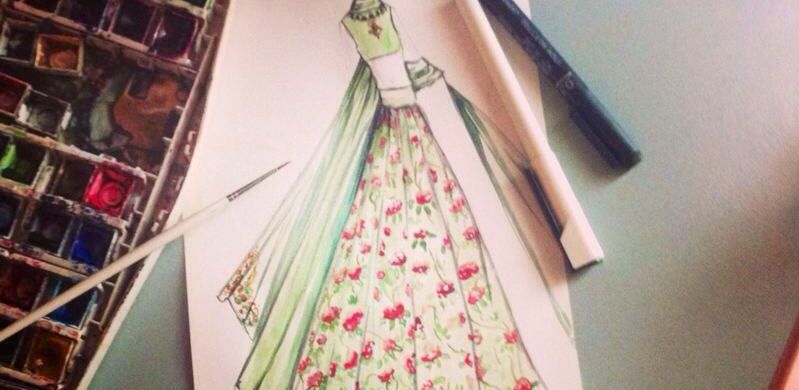 Popxo.com
is all set to present Pakistani designers, Faiza Samee, Rizwan Beyg, Sania Maskatiya and
Zara Shahjahan
at Lakmé Fashion Week Winter/Fall 2014. Despite the crazy busy schedule, Zara sat down with us to speak about her phenomenal year so far and all that lies ahead. Enjoy our exclusive tête-à-tête with the designer on rise!
The 'Love Bug' Collection shown at PFDC Sunsilk Fashion Week this Spring sealed your position as a Fashion Brand to reckon with, How do you feel about that? 
Love Bug represented a very exciting phase for our brand. We were ready to put ourselves out there. I was ready to have some fun and play with my love for florals. With love bug,  we took a break from pretty vintage florals and a soft color palette and experimented with jungle floral prints.  It was all about doing new things and pushing boundaries. We got an amazing response from Love Bug and that really helped our brand establish itself better. Now, we are just not doing formals, bridals and the usual we are now making fashionable fusion wear that is in sync with global trends and can be identified with as luxury fusion apparel by Zara Shahjahan. Our brand after Love Bug was able to translate our distinct design philosophy into clothes that can be worn across the world, clothes that are coherent with international fashion trends. Love Bug has taken us places. 
The Zara Shahjahan Brand is going places… Tell us about your show in London recently. 
Fashion Parade was a fascinating experience. Showcasing at Kensington Palace itself was enthralling. The event was organized by Encyclomedia PR who also got us on board. Love Bug in london was exhilarating because not only did I get to work with great international models but also represent Pakistan in front of a multi-cultural audience. It was an honour.  We had an exhibit at Aashni & CO and have had multiple orders from UK for Love Bug after the showcase. We already have a client base in UK who have been ordering directly so that worked out well.  
What does participation in Lakme India Fashion Week mean to you? 
Its an honour to be a part of such an esteemed platform. LFW is renowned across the subcontinent and with seasoned designers on board, we are really excited about showcasing Pakistani fashion alongside. Indian Fashion is strong and has a very distinct feel to it. The industry is well-established owing its growth to seasoned designers. Bridals are a significant part of the Indian industry and that is what we usually identify Indian fashion with. Zara Shahjahan exhibits regularly in India. We stock at PFDC in India and time and again visit to hold exhibitions. Our clothes are very well received over there as Zara Shahjahan's aesthetics are something very fresh for the Indian consumer.
times;">
We have had multiple offers regarding opening a flagship store in India due to high demand and hopefully when we are ready we shall definitely consider it. 
sans-serif; font-size: 13px;">
sans-serif; font-size: 13px;"> Will you be taking your existing collection to the Fashion Week or do you have something new in the bag? 

I shall keep my best foot forward and showcase Vintage Florals. It is something i am passionate about and good at. However, this time around we are doing Fusion Bridal Wear. Its a fresh take on bridals where eastern embellishments are infused with western silhouettes to create a fusion collection. With every collection I hope to evolve and experiment with my work. However, it is necessary for a designer to stick to their forte and design philosophy.