Sometimes fashion is enough. That is all we have to say about the Faraz Manan presentation at the end of the day. If you speak to someone about the Faraz Manan Bridal Couture SS2015, they may tell you how cold it was, or how far the venue was, or how the wind was unforgiving, perhaps even of the outside decor practically caving in taking a few unfortunate under it BUT honestly, if Faraz just called us to a shack we would gladly breathe and eat the gorgeous bridal couture he presented at the show today. Everything else was just a distraction… for anyone who was there for fashion, they got their trips worth and more!
Despite the drama before the show (which one could have totally done without – perhaps a little punctuality would have helped but then this was a Sunday in Lahore sigh) As soon as the fashion presentation started, it made sense to be there. Faraz Manan Bridal Couture 2015 titled 'Florence' showcased 20 couture pieces ranging from Bridals to formal evening wear and the safe conclusion is that every design is bound to be sold 20 times over. There was something to love for everyone!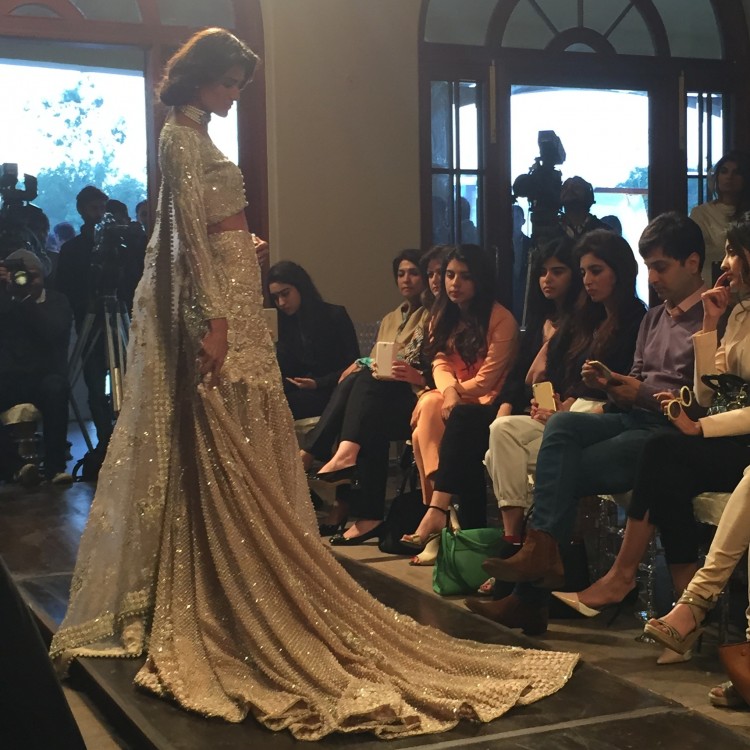 What we loved.
Faraz paid as much attention to the embellishment at the back as he did to the front. Sparing no detail,  the outfits were equally beautiful from all over. 
Without actually showing skin, Faraz managed to create elegant peekaboo numbers which teased as much as one would like without seeming crass.
Faraz had beautifully fused fabric, embellishment, print and more leaving us in awe of the handiwork and creating layers of subtle drama for those who appreciate fine craftsmanship.
Clearly, Faraz had put his head down to create a collection that wouldn't leave much to the imagination. Every piece could be worn as is practically straight off the Ramp…
While I have to confess we may have been mildly skeptical of standalone shows initially, I'm personally glad we got a chance to experience the beauty of these couture pieces first hand in a small gathering. Somehow back to back shows 5 minutes after another end up being more about the show than the garments. To be able to experience such intricate work first hand was a sheer joy.