As the Lawn Madness in Lahore seems to settle down a bit, Karachi is catching up with the fever… The latest designer to launch her Lawn, the class couturier, Farah Talib Aziz and her collaboration with Lakhani Silk Mills.
The collection was presented at an exclusive preview lately and just by the sheer number of journos, media personnel and bloggers who turned out in addition to the usual lawn loving population, one can safely say that this collaboration is anticipated to be (for the lack of a better word) 'a hit'. For Garden of Grace, the Farah Talib Aziz took inspiration from the charm of French country florals and the grace of old Parisian lifestyle, encompassing the delicacy and glamour of European heritage and the celebration of feminine splendor.
The recently Emmy nominated model and actress Ainy Jaffri is the face of the brand's campaign.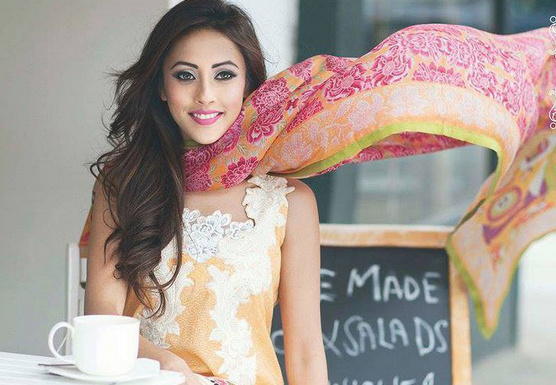 If you want to WIN a Farah Talib Aziz Lawn suit of our choice in a lucky draw all you have to do is:
1. FOLLOW SIDDYSAYS ON VIMEO OR YOUTUBE 
AND
2. Tell us what you'd like to ask Farah Talib Aziz if we get the chance to interview her for SiddyTV? 
—-
Please write your Vimeo/ YouTube name by which you are following us (even if you're following from before) and the question in comments below.
The winner will be announced on Saturday, 18th April on the SiddySays Facebook Page – As always the winner will be picked through a lucky draw and our decision will be final! 😉 xx