Pakistan has a thriving leather industry and we have a designer under every lil rock you pick but we all know that those who truly stand apart are the ones which are true to their style and direction. Continuing our celebration of the Independence Day, we are celebrating four unique made in Pakistan 'Handmade Bag' brands, all run by extremely talented and enterprising women. Not only are these social enterprises supporting the grass root and empowering local artisans, they are also taking the 'Made in Pakistan' brand global for which we absolutely respect them.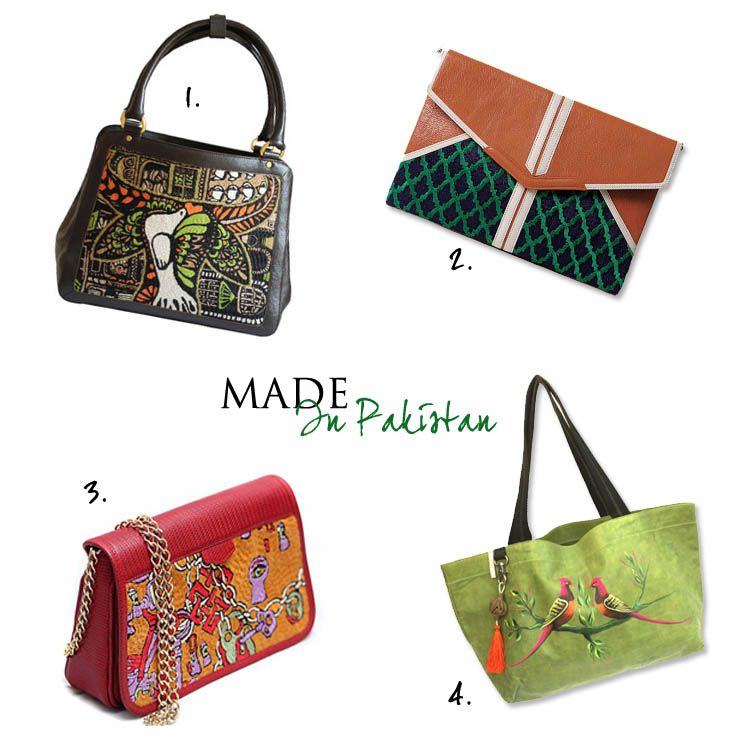 1. The Water Buffalo Square Tote by Polly & Me .
Established way back in 2003, Polly & Me is owned by two Australian sisters Ange & Cath. Cath visited the North of Pakistan in 2000 and noticed the untapped potential of the region, having been trained at Central Saint Martins College in London, she envisioned the formation of a fashion brand that served as a Social Enterprise. She and her sister partnered with Mogh International a local NGO and started what could be the first of such projects in Pakistan. Polly & Me also introduced quirky 'toes' khussas which are worth checking out.
2. Anfa Envelop Clutch by Popinjay :
One of the newest entrants in the market, Popinjay is the brainchild of Saba Gul an MIT Alumna. Working with women in the Hafizabad district near Lahore, Popinjay is all set to introduce their second collection 'Havana' after the success of their debut collection. Their online store is usually well stocked and highly advise a visit in a week or so once the new collection goes live.
3. Red Destiny Frame Clutch by Krizmah :
Zainab Ulmulk, a member of the ancient Katur dynasty of Chitral in partnership with fellow Graphic Designer, Nadia Malik, have created Krizmah to seek to empower the women of Chitral through their craft allowing them to pursue alternate means of livelihood without having to leave their homes and daily chores. Since then the brand has continuously showed it's collections locally and abroad and sells online and through exhibitions.
4. Truck Art Parrot Green Tote by Meher Kakalia :
The latest of my discoveries is the Meher Kakalia brand. Having been in business since 2005, the brand boasts a range of shoes and accessories which celebrate the local art and artisans. While Meher Kakalia ballerinas are the more popular of the products, the bags, sandals and moccasins are equally fun, quirky directional and each a statement piece in it's own regard.