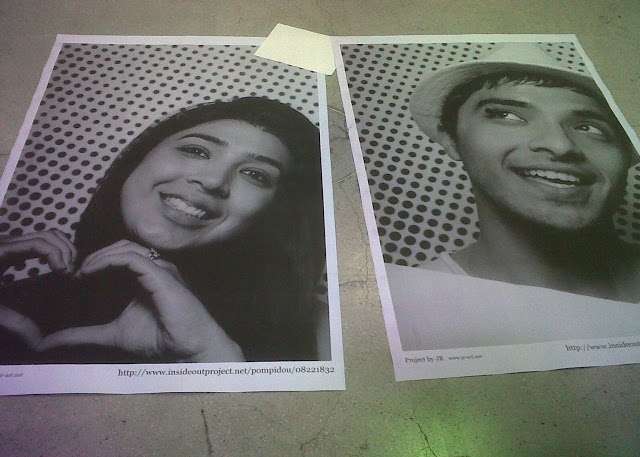 palatino; font-size: small;">BlackBerry Travel Tip: FancyTran is perhaps one of the most highest rated 'free' translation applications on BlackBerry AppWorld. You do need to be connected to GPRS or Wifi but it comes in mighty handy when travelling to a non-English speaking country…
palatino; font-size: small;">Second Day in Paris, started almost mid morning given our 'very' late stroll across the streets of Latin Quarters and Marais the night before. Now wiser since our near heat stroke the day before, we had checked the weather (which was fortunately cooler than the 34 the day before) and paced our day to accommodate an art lover who wanted to absorb all, a pregnant woman who couldn't walk too much and a poor fresh graduate who had the misfortune of being stuck with the above two.
palatino; font-size: small;">Day 2 was therefore divided into 3 parts, the Antique Market in the morning (mid morning) which was my whim, Pompidou in La Marais which was something Zub wanted to do and a visit to Sacre Coeur in Monmarte again something I wanted to do (poor Harry didn't have much of a say in the matter).
palatino; font-size: small;">
Pompidou:
palatino; font-size: small;">I will therefore have to quote Zub's account of the Museum mostly with sprinkles of my own and the highlights are:
palatino; font-size: small;">The building itself is a piece of modern architecture worth a visit from outside even if you're intending on being sluggish like me
palatino; font-size: small;">Stepping out from Sacre Coeur, one can enjoy beautiful views of the City of Paris. After admiring the city for a good while from way up on the top, we slowly made our way down from the Hill and entered the Streets of Monmarte to have dinner… While the choice for food here is not as extensive as that in Latin Quarters and St Germaine, Monmarte Cafe's have their own charm and you will surely find something to please your palette here.

palatino; font-size: small;">