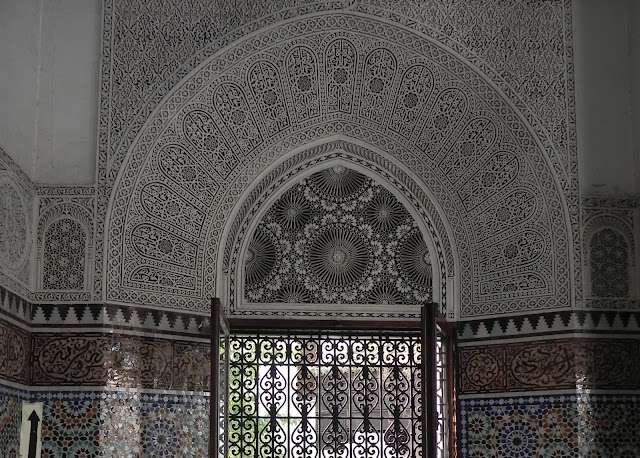 palatino; font-size: small;"> Islamic Center of Paris
palatino; font-size: small;">Islamic Center Tips: Dress modestly, pay a 3 Euro entry fee and walk about… pretty simple no qualms.
palatino; font-size: small;">Catacombs Tips: Keep half a day easy for this destination. Is really NOT advisable if you're claustrophobic (which is why I sat it out) and while from what I hear people had brought kids there, I wouldn't personally take my kids to a ditch full of skulls… AND above everything, be ready for up to 2 hours of waiting in line during Summers
St Germaine and Latin Quarters
palatino; font-size: small;">
palatino; font-size: small;">
Jardine du Palais Royale
palatino; font-size: small;">
Eiffel Tower
palatino; font-size: small;">Eiffel Tower Tips: if you want to go up the tower, book atleast 3-4 days in advance online. The line is excruciatingly long and as we found out, people who had been standing in the line for over 2 hours were nowhere close to their turn.
River Cruise
Port Neuf River Cruise … Yet another good thing that had come out of the Discover Walks Tour was the little coupon we got for the River Cruise bringing down our per person ticket cost from 13 Euros to 4 Euros! Needless to say, you have a choice of a million different River Cruises with meals without meal, with entertainment without entertainment, champagne and the works… But we were interested in plain old Sight Seeing – Paris by Night you may call it. So we took the last boat which leaves the dock at 10pm (Summer Days are long so its still not fully dark till 9pm) and spent a good hour going up and down River Sienne and looking at all the iconic sites of Paris beautifully lit up at night… including the disco glam (reminds me of the sparkly glitter miumiu shoes) Eiffel Tower.