The famous quote, 'Be the change you wish to see in the world' echoes true for every nation, every person. Mahira Khan 
We know that Hamza Ali Abbasi loves talking about 'change' (aka Tabdeeli) but this time his sermon met  with an abrupt dose of reason as Mahira Khan trumped him in less than 140 characters.
Hamza Ali Abbasi took to twitter about a topic that shook the nation and props to him for once again speaking his mind. We wholehearted support the subject and while we hope and pray that we can rid ourselves extremism and terrorism, we also agree that such incidents need to be projected responsibly in the right light across mass media.
Hamza tweeted '#Bahawalpur Parachinaar (FATA) was not an accident, it was a terrorist attack. Death toll has risen to almost 100. Media coverage?'
Enter Mahira Khan: In a simple yet straight forward way she prompted Hamza Ali Abbasi to lead the change my responding, 'We are the media, cover it'.
To the point.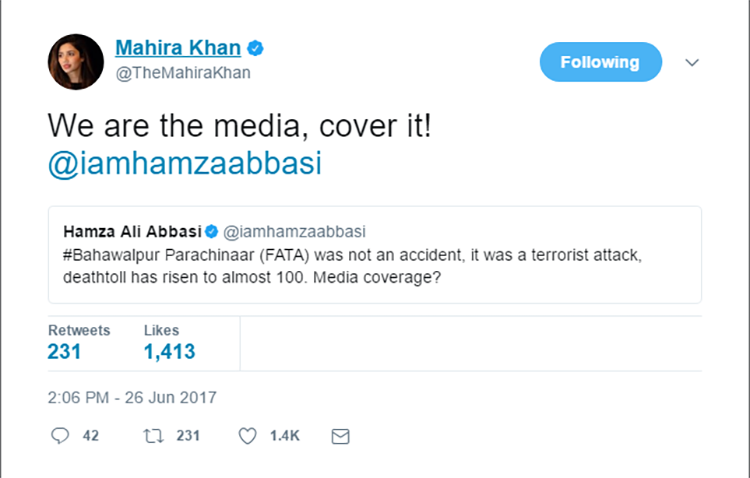 We have always admired Hamza for boldly talking about subjects most people shy away from. And not we are all love for Mahira to remind us that the change begins with us.
Let us all play our part, little or large in ridding ourselves of terrorism.