From Mera Sultan and Pakistan's obsession with Turkish plays, the focus is now on Turkish cuisine as Nisa Sultan opens in Lahore.
NISA SULTAN LAHORE:
The facade makes no grand statements but sets the mood for what's to be expected inside – 'Nisa Sultan Express, Turkish Cuisine'. What appears to be the latest edition in a string of popular Turkish imports has clearly managed to grab the attention of food loving Lahore. Everyone seems fascinated by this small eatery in a town full of grand restaurants and the venue has been packed both the times I've visited it in the last few weeks.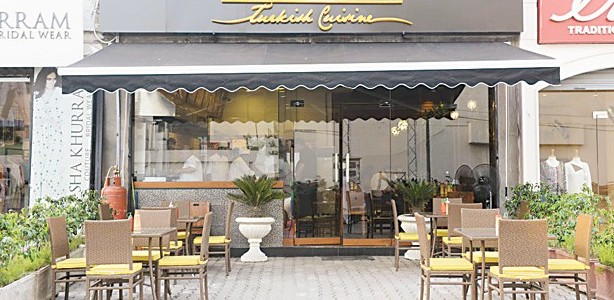 Nisa Sultan , whether intentionally or unintentionally, has pioneered two new concepts in Lahore: obviously Turkish cuisine being the first but interestingly 'Express Eating' being the second. Lahore is notoriously reputed for its laid back attitude and love for food. It is no surprise therefore that most restaurants that venture into the city often aim for huge premises and huge servings, satisfying the customer psyche. Even local chaat chains that initially started as express restaurants have over the years evolved into restaurants. Cafes, delis, fast food chains and restaurants therefore have little variation in experience. Turkish cuisine, of course, is of primary interest.
"We tried to bring the authentic Turkish doner kebap experience to Pakistan", said Nadira Omer Khalid one of the two partners behind Nisa Sultan, referring both to the food being offered as well as to the experience of eating it.
Though she's lived in Pakistan all her life, Nadira is half Turkish and wanted to bring the real taste of Turkey to Pakistan. Seeing huge potential in the local market, she reached out to Safa Evke, her partner in a business back in Istanbul. Safa runs a chain of small boutique hotels by the same name in Taksim Square. She has now been in Pakistan for the last six months, working on starting up Nisa Sultan with Nadira.
The menu focuses on doner and pide (perhaps best described as a local Turkish version of a pizza or calzone) done decently well. The Turkish head chef at the restaurant Tallat, is a specialist in doner kebaps and has over 30 years of experience at restaurants in Turkey, Iraq and Ukraine. The menu therefore provides a decent variety within these two specialties and customers can choose between chicken, veal and lamb doner kebaps in a variety of presentations including the doner kebap rolls, wraps, pita bread or with rice. Similarly, pides are also offered in 11 flavour variations making the offering fairly comprehensive. If you're looking for the authentic taste, then it's recommended that you try lamb first.
A meal at Nisa Sultan would normally start at approximately 500 rupees and go up depending on your choice of starters, sides, desserts and drinks. Though some customers have voiced concern over the size of the helpings, no one seemed to have any disagreement with the taste itself.
"We are trying to customize to the local palate without compromising on the authenticity which is why you'll see a lot of traditional sauces so customers can play around with the spice levels to their taste" says Nadira.
The sauces were indeed a welcome addition between my first and second visit. While I am personally a huge fan of doner kebaps, adding the extra zing only helped my very desi taste buds.
Nadira and Safa are hoping to expand the menu by introducing Turkish Barbeque and even considering a full blown Turkish restaurant, but for now the partners seem to have their hands full with overwhelming response to the restaurant. Expansion plans will have to wait.
Meanwhile, inside the premises, the kitchen is visible to all and much to my delight, spotless clean. Tallat Usta, the Head Chef, stands behind the glass partitions that separate the customers and the kitchen and seems to be keeping a grave eye on the entire goings on. His involvement continues outside the partition where Safa personally attends to the customers and supervises the waiters. Despite the language barrier, Safa seems fairly comfortable breezing around the restaurant from table to table taking orders, giving feedback and explaining that he doesn't understand Urdu. Some customers did seem perplexed by his tone and manner which seems to defy the usual norms of 'very humble' service one is used to at restaurants but one has to take it as a part of the 'authentic Turkish experience'. There is a bit of a cultural gap to get used to.
Being a small, express premises, Nisa Sultan is crammed with tables and chairs, with little space to walk during the rush hour but what the place lacks in space, they try making up with speed of service. The food is served within ten minutes of ordering almost every time. The quick turnaround and being perfectly placed slightly off MM Alam Road, makes Nisa Sultan perfect for office goers needing an express lunch or for friends to grab a quick bite in the evening.
Photography by Faisal Farooqui @ Dragonfly
As printed in The News on Sunday .