Couture House ' Ammara Khan ' is presenting it's bridal collection on day 2 of the prestigious PFDC L'Oréal Paris Bridal Week 2014 with collection titled "The Winter Palace: A Celebration of the Russian Tsarina". Lahore's new 'go-to' designer Ammara Khan is all set to make her first runway presentation comprising of 20 signature pieces.  Here she talks to us about her inspiration and how it feels to be debuting at such a prestigious platform.
—-
What is your design philosophy?
Supreme luxury, exquisite craftsmanship and a harmonious blend of the classic and contemporary is the essence of the Ammara Khan design philosophy. With a love for the ornate, I create couture with a timeless view on elegance and style. Each piece is created with utmost passion and is valued as art for years to come.
What is the key bridal trend this season?
I don't follow trends for my Bridal collection. My mood when I design is what directs me. Felt like a softer palette predominantly, short and mid length shirts accompanied with voluminous 'lehngas' and 'shararas'. For the embellishments, there is an abundance of Swarovski crystal (a signature Ammara khan choice of material), lustrous pearls, and age old techniques such as 'Vasli' and 'Baadla'.
What is your inspiration for the bridal presentation this year?
On a visit to Istanbul last winter, I was fascinated by the beauty of the jewels and artifacts from Imperial Russia displayed at the Topkapi Palace Museum. I wanted to discover more about the Russian Empire and the lives of its royalty in the seventeenth century. I was amazed to learn about the luxurious and opulent lifestyles of these Monarchs which was among the world's most extravagant for almost two centuries.
The Winter Palace, the official residence of the Russian Tsars and Tsarinas, was a reflection of this glorious time for Russia. With its Elizabethan baroque architecture, grand scale, and splendid ornamentation the palace is truly inspirational.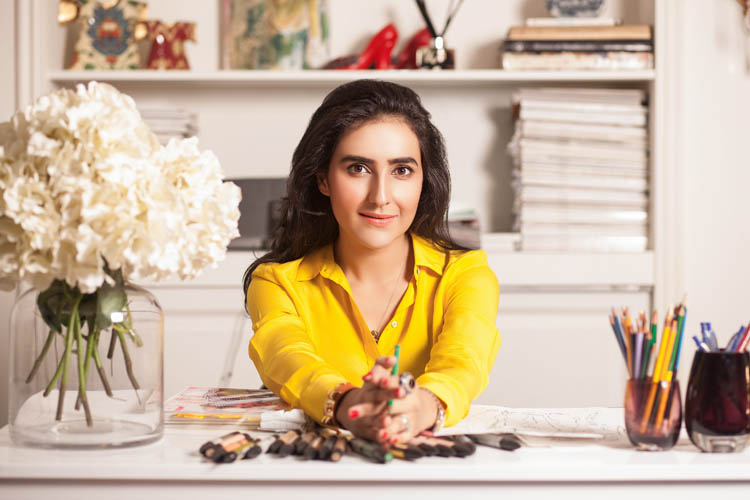 This is your first showcase at the PLBW, what's giving you the jitters?
There are moments when I'm very calm and relaxed and seconds later I'm nervous about almost everything. Last night I had a dream that I got late for my show and a friend of mine handled everything in my absence! Sure sign of stress I'd say 🙂
What are you personally most excited about?
Seeing a twenty piece  collection  This is the first time ever that I've designed for the ramp.
What should we expect to see in the show?
Royal European undertones, exquisite craftsmanship and very original couture creations that will remain cherished for years to come.
What are you doing immediately after the Bridal Week?
Going to visit my mom in law in Karachi who I miss terribly and who sadly, won't be here for my show. Later I'll Be traveling to London to see my sister and a close friend.