The Lakme India Fashion Week , one of the biggest events on the Indian Fashion Calendar kicked off on the 20th of August. This year, Hello! Pakistan in collaboration with Popxo.com presented 4 Pakistani designers who had been shortlisted and invited by the Lakme India Fashion Week organizers.
The designer mix as unlikely as it seemed on the face of it represented a cross section of our fashion industry mixing the old and new and modern with traditional. In the end, three of the four designers ended up presenting with Faiza Samee not making it to India last minute.
The general expectation from these designers was extremely high. The good news is they all stuck to their trademark aesthetics, were these the most memorable of the shows at Lakme India Fashion Week? Perhaps not, but all three put their strongest foot forward and have surely paved way for more to follow in the seasons to come.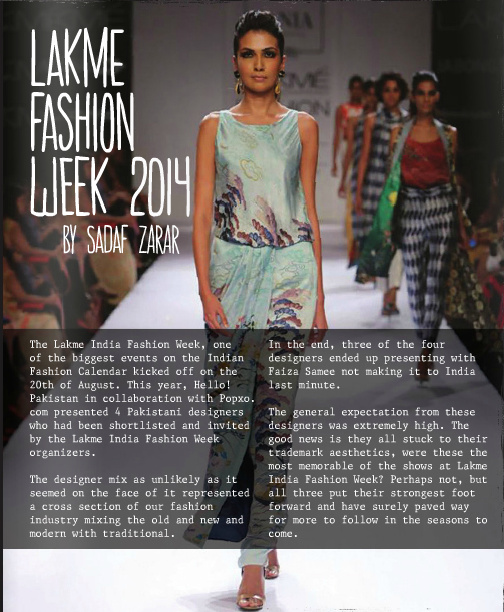 Zara Shahjahan has been fascinated with florals for a few years. There have been hints of these in almost all the collections presented since 2012 but her trademark vintage floral print made its first major mark at PFDC Loreal Bridal Week last year when she presented 'True Love'. These prints had also appeared in Zara's Eid collection earlier that year.
Even though her jungle florals from 'Love Bug' collection at the PFDC Sunsilk Fashion Week this year generated a lot of interest, for Lakme India Fashion Week Zara went back to her signature 'vintage florals'.
The colour palette for the collection was muted pastels. Mint, dusty pink primarily mixed with shimmer and shine created a weightless magical feel to the presentation and was an ethereal tribute to femininity. Even though the soft hues were expected when Zara earlier announced she was going back to this print, her choice of fabrics was clearly much more bold mixing sheers, print, laces and more. Her experimentation with silhouettes was diverse and covered a range of eastern and western cuts within the 13 looks presented for the show.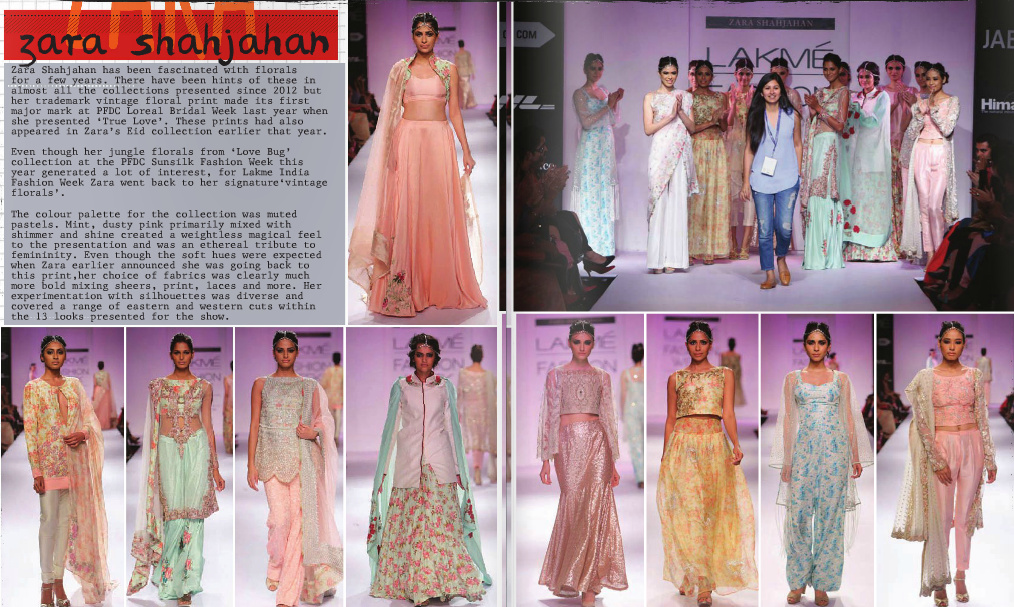 Rizwan Beyg , one of the veterans of the Pakistan Fashion industry, has always been the flag bearer of 'tradition'. While speaking once at the Asian Bridal Show in Delhi, where Rizwan displayed his work some years back. He explained, "I did not wish to shock. Nudity is not the culture I've inherited. I believe in tradition".
Continuing to find inspiration in culture, Rizwan Beyg has been focused on 'truck art'. His past two collections at PFDC Sunsilk Fashion Week have literally taken truck art motifs and slapped them onto clothes bags and accessories creating a whirlpool of neon colours reminiscent of perhaps a flower child hitching hiking through Pakistan. Flared trousers, Gypsy Skirts, Wide Belts, Bikini Tops and Platform heels… While it's refreshing to see that a designer can still choose to be whimsical and fun at such a big fashion platform, it is always on the borderline of appearing 'gimmicky'.
Such literal translation of truck art was at first refreshing but it is yet to be seen how Beyg will evolve this inspiration in collections to come.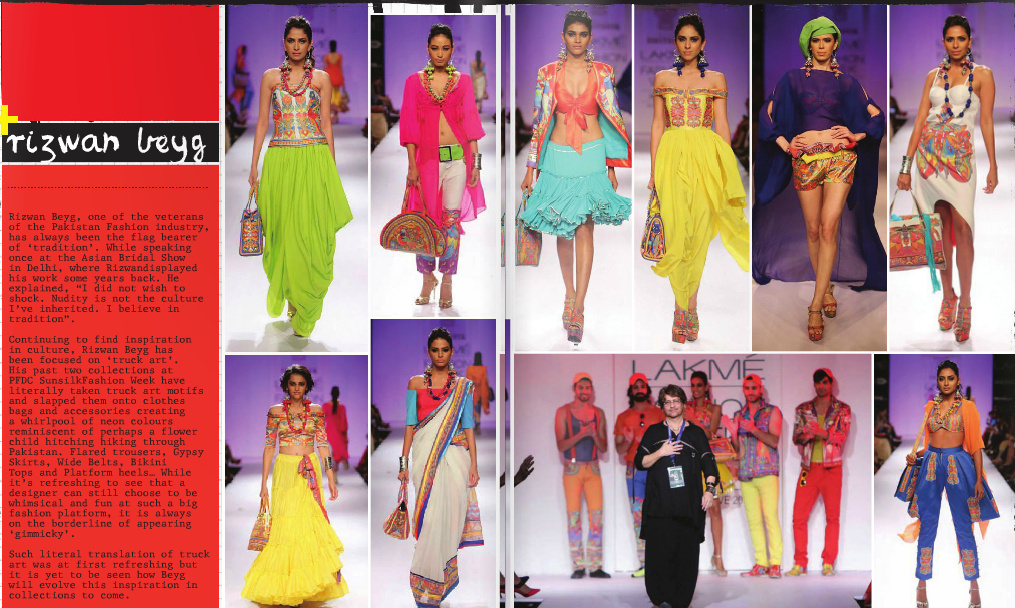 For Lakme India Fashion Week, Sania Maskatiya did what Sania Maskatiya does best. An imaginative layering of pattern on pattern mixing bold graphic prints with delicate Japanese inspired sceneries and motifs, she presented 13 looks all paired with trousers for the 'Sakura' collection.
The youngest of the lot, is a graduate of Indus Valley School of Art and Architecture with a coveted degree in textile design. Sania Maskatiya is one of the few distinctly directional brand that have come out of Pakistan recently. Using pure fabrics, Sania creates versatility in every outfit by combining intricately designed prints, cut and draped in a range of silhouettes.
The Sakura collection is described by Sania Maskatiya as drawing from the grace of cherry blossom and the stark romance of the japenese landscape, tea houses, turtles and treasure chests. It is commendable how the designer has drawn inspiration onto the prints and stayed true to her own aesthetic rather than reproducing the kimono or something else more obvious that may have been expected.
This article originally appeared in Paperazzi Magazine .