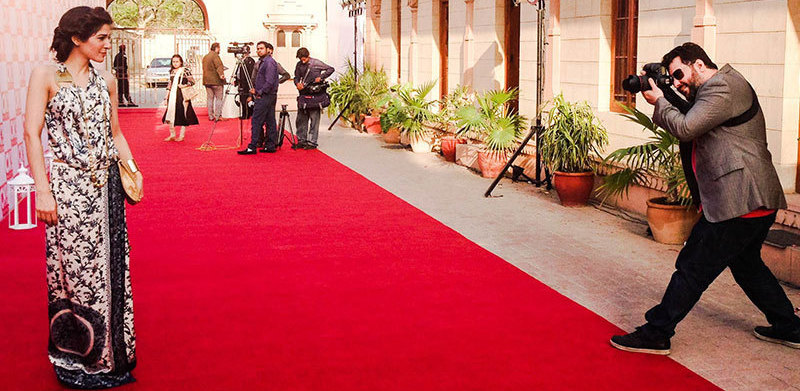 While the glitz and glamour of Fashion Week may seem enticing and 'all-that' there are times when you come across a handful of irksome individuals that make you want to wish you'd either slip out of your 7-inch stilettos and run for cover or cringe and diffuse into thin air.
Who are they? That's a secret SiddySays is willing to share.
Usher Odysseys:
These fresh faces come second to Bouncers in goodie-protection and top the charts when it comes to the most enthusiastic souls at the venue. Covering fashion week for pure voluntary purposes, some of these boys and girls take their work way too seriously (for better and for worse). They will guard the front row-goodies like their life depends on it, and they will not, (and I repeat, not) let any A-list editor switch name card seats with another just because they want to sit next to their friends.
Sorry mate, time to make new friends!
The ushers at fashion week are a lot like school monitors on loose, until of course, when the lights dim down and the show begins – there is no end to their happiness. (ah, freshies)
The Non-Existing Blogger:
He's there. Every freaking fashion show. Right there in the second row, "haayy gurrl-ing" to everyone who passes his seat. He knows everyone and everyone knows him, and yet no one really knows where exactly does this fella blog…
So he comes by, dressed up, gel backed hair and has his phone in hand and satchel by his shoulder – really, by the looks of it, he does look professional enough to be passed for a media personal (maybe this is why poor ushers get confused?). He stays back till the end (even goes to after parties – mind you, he's the real deal), he critiques every collection and knows every designer by name – and yet you never really see his name in print. Ever. It's an enigma,  really!
Million Dollar Baby:
This cult of 'it girls' (and fashioniistas) is adorned in head-to-toe designer wear giving the rest of the crowd a run for their money. This dolled-up army usually comes armed with the latest boxed-clutch, iphone6 and super inflated ego. They are usually found, socializing with the who's who of fashion, dominating the front row and the social media screen with more than a dozen of their instagram posts all gushing about their hair-dos, Manolo shoes, and bling-bling. Sitting next to them is more amusing then vein, unless of course you accidentally step on their 90K skirt on your way to the exit…(oops, my bad, love)
The Sponsored Family:
They are the most interesting and tacky kind of species found sprawling away on red carpet area and often stepping on ramps. They're bedazzled by the fashion-week chaos, and yet trying super hard to fit in, but they never do. They're dressed up in a hybrid of Shaadi and Valima joras, and are most commonly found near the decor, snapping away pictures of themselves (with a silver digital camera) with their family against the backdrop of a vase of freshly picked white roses.
Obsessive-Compulsive Goodie collectors:
They are the night-mare of every FRrow member. These obsessive compulsive goodie collectors are the worst kind you'd come across on your four-day fashion event. They have their hawk eyes set on your designer goodie bag and they're forever ready to pounce and claim them as soon as the goodie is found unsupervised. They also have a despicable habit of collecting all sorts of trash, be it an empty paper-bag or left-over chocolate, on their way out. Not entirely sure if they're helping out the Council to clean the ramp area, or they're just plain weird. My heart is set on the latter though.
The Nameless Designer:
You hear them go on and on about their current collection, and every other collection they've showcased. By the looks of it, they seem to know everything there's to know about the industry. They'll give you insights in hushed tones, about which collection hit big with the collection last season, who has a lawn collection up his sleeve, and which design house bagged which model. They'll be like talking encyclopedia of fashion in the mere 20 minute break you get in between acts to think about anything BUT fashion.
And when everything seems like its done and over with, you ask what day, which act are they showcasing in so you keep a look out and you get a response like:
"Oh me? No, honey. I'm not showcasing this time around. Been doing too many international shows lately, the one I was just telling you about, no?"
You wished you had a handgun in your miniature Muse clutch.
The Uninterested Husband/Boyfriend:
He's been to too many of the kitty parties, launches, fashion shows, lawn exhibitions, that he's actually sick and tired of all the model faces. He's there for two reasons only: a) because you (the said wife) wants to show off your new arm candy to the crowds. And b) because you had an extra pass and you knew he'd be the one driving for the night (heels and clutch breaks don't match, na!)  This man is the only one who'll remain unfazed by the glitz and glamour. He has grown a thick skin when it comes to flashy lights, loud music, bombshell models and sartorial brilliance. Poor lad!
The Catty Blogger-Journalist:
This individual had a healthy entrée of bitch-soup with sassy-sidelines before coming to the venue. They seem to love to hate on everything and everyone that shares the same breathing space as them. No fashion show they attend, meet their expectations and so they sit and passing remarks from attendee's dressing sense, a horribly assembled designer's collection to anyone and everyone who'd make the terrible mistake of asking their opinion about the show after each set. Since they very much cannot publish the uncensored version on their columns and/or blogs, they feel it's their utmost duty to give everyone their two-penny commentary that unfortunately comes without a mute button.
The Chummy Editor:
"Haye jaan, its so nice to see you!!"
Really? This is the first time I've ever seen you in my life, bro!
This is the over friendly type: the hugger, the kisser, the "let's get to know more about each other later" type. He's the one who'll make every effort to bribe the volunteering ushers to place his name card next to yours. And if luckily, that doesn't work out (bless the soul of diligent ushers), you'll find yourself in midst of a staring contest from a few seats down the row.
He is the stereotypical leech, who'll stick by you, and to you for life – or as long as your life remains for 3 long days of fashion week. He's also the only one in vicinity who silently make you wish you didn't dress up for the occasion.
The Wifi Deprived:
"One bar. Two bars. What! No bar? I gotta stand close to this pole and tweet y'all!"
The most distressed member of fashion fraternity is one who doesn't get constant supply of wifi to send compulsive tweets and instagram updates. Half of the time you're with them, they'll either have a conversation with you over bandwidth sustainability in regard to their favorable position near the light pole, or they'll prod you with questions about your 3G connectivity. There is no end to their struggle, really.
Glam Goddess:
These 80-something women bring the house down once in a while with the impeccable taste in fashion. Without naming names, these women are spotted in the frow looking like absolute glam queens by the way they've styled their modest yet modern attire. They're the kind of women that make you want to wish you had a grandma that savvy so you've borrow her accessories or two. These ladies are an inspiration of timeless elegance and grace.
(Note: No needle-work spotted on dress or face)
—-
Title Image: Dawn.com