After the longest godforsaken time I finally 'jumped with joy' again. If you're a regular reader, you probably know that only the most original style statements make me idiot happy. Going through the images from Fahad Hussayn's Eid Preview (managed by Aamir Mazhar of Saavy PR), I could have hugged Zara Peerzada for her fabulous look.
There is no rocket science to it. It's a simple white peasant blouse worn with a statement silk screen print skirt by Fahad Hussayn himself (I am ordering it for myself in another window…). The skirt is something I've been looking for eons now – Frill detail around the waist, an understated belt and pockets!!! Styling-wise, Zara is doing what Zara does best – a bright pout and untamed locks. The girl is a genius I say, you see her face and then you notice the skirt. Everything else just compliments the two.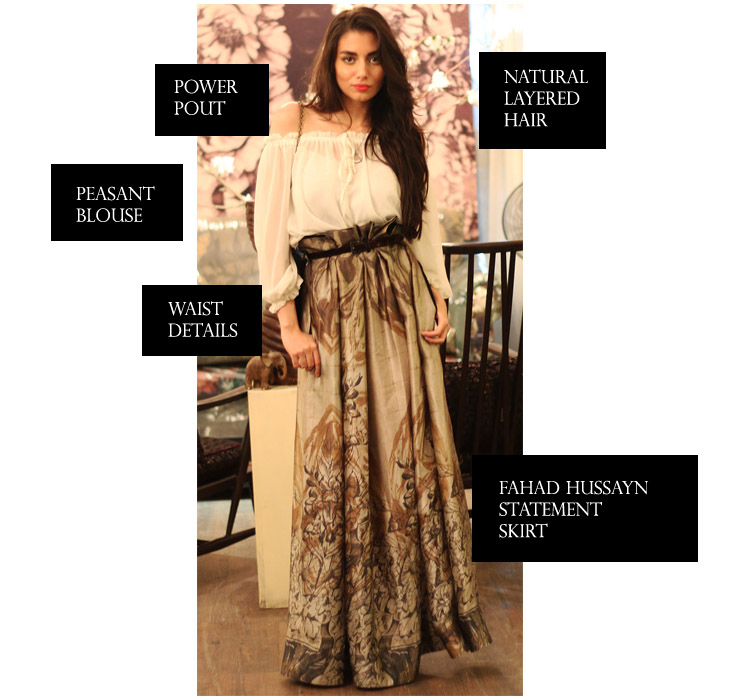 No hiding the fact that we absolutely LOVE Zara Peeru's style. Check her out in another fabulous 'maxi skirt' look here . And if you, like me, cannot wait to get your hands on a wearable, summery, cool yet checking the desi conservative box skirt, you need to get on to Fahad Hussayn's website right now. For PKR 10, 500 one of these silk designer skirts could be yours!