Held annually the 5th Hum Awards ceremony this time round too will be nothing less of a glam affair. HUM Awards bestow recognition upon all HUM TV productions at the ceremony, chiefly the drama serials. They have announced their viewer's choice (popular) nominations for the year 2017 and the ceremony is likely to take place in Lahore on April 29th. Alongside awards there will be some of our favorite stars who will take the stage to enthrall the audience.
Drama is considered to be the forte and one of the strongest areas of the TV industry (much thanks to our TV enthusiasts). Hum Tv is known for producing some groundbreaking serials over the years, and so last year was no different with bringing forth some of the major social issues to light. Packed with powerful and notable performances, the story lines were extremely captivating and drew close to human heart.
Without further ado, let's have a look at the nominations and our verdict on it: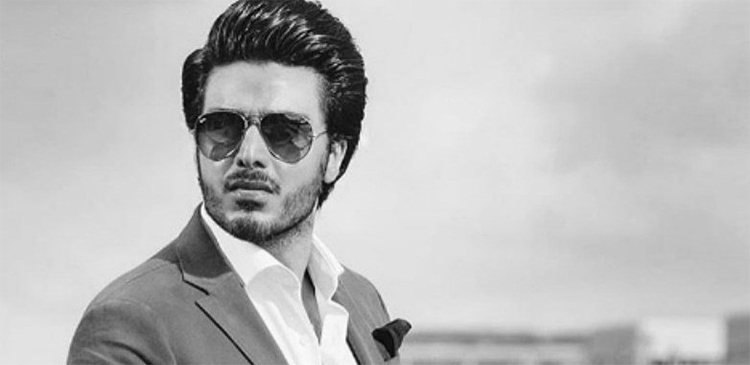 Best Actor Male Popular:
Feroz Khan- Gul –e-Rana
Mikaal Zulfiqar- Sange Mar Mar
Humayun Saeed- Bin Roye
Hamza Ali Abbasi- Man Mayyal
Osman Khalid Butt- Sanam
Ahsan Khan- Udaari
Ahsan Khan for Udaari:  One of the hit drama series among the audiences, we are certain that Ahsan Khan will sweep this award on the night of April 29th for Best Actor. Despite portraying a negative lead in the drama, his phenomenal acting skills has received immense appreciation locally but from across the border too. This one without a doubt is a well deserved win for us.
BEST ACTOR FEMALE POPULAR
Sajal Ali – Gul-e-Rana
Urwa Hocane – Udaari
Iqra Aziz – Choti Si Zindagi
Mahira Khan – Bin Roye
Maya Ali – Man Mayyal
Amina Sheikh – Pakeeza
Sajal Ali for Gul e Rana:  Our personal favorite, hold on and without any bias we feel Sajal deserves to win the Best actor Female. Her powerful performance as Gul e Rana has left has amazed. Based on the rights of women,  Gul e Rana fights to get justice after being abused by the stereotypical  mentality of the society. Into a forced and an almost sinking marriage, she tries her best to stand up for her rights refusing to compromise on her self respect. Sajal is a skilled actor who has surely come a long way in her career and is on the road to master her craft. As of our opinion, we think that Sajal is going to sweep this one for sure.
Best Drama Serial Popular:
Gul –e- Rana
Choti Si Zindagi
Sange Mar Mar
Man Mayal
Bin Roye
Udaari
Udaari: With finally letting the issue of child abuse out of the closet, this play became a roaring success with relatable characters and epic performances.In collaboration with Kashf foundation and  Momina Duraid (MD) productions of Hum TV produced this trailblazing TV serial also emphasizes on gender empowerment.  Terms like pedophile and child sexual abuse were beyond one's imagination to be used in a Pakistani TV drama serial and thus Udaari proves in breaking all  such conventional sensibilities.  We bet that Udaari unquestionably has to be the winner in this category.
BEST ON-SCREEN COUPLE
Feroz Khan & Sajal Ali – Gul-e-Rana
Urwa Hocane & Farhan Saeed – Udaari
Humayun Saeed & Mahira Khan – Bin Roye
Mikaal Zulfiqar & Kubra Khan – Sange Mar Mar
Hamza Ali Abbasi & Maya Ali – Man Mayyal
Shehzad Sheikh & Iqra Aziz – Choti Si Zindagi
Humayun and Mahira: Without a doubt, its' Humayun Saeeed and Mahira Khan  due to their widely acclaimed onscreen pairing. Bin Roye, the film did well at the box office and the couple was liked and loved for their sizzling chemistry . Even when the drama was aired on Hum Tv it gained equal popularity as the film. We will give this one to them for always being super entertaining and make our times in front of our Tv screens worthwhile.
Hum Tv network also recognizes and honor the music industry incorporating three categories. We look forward to much more recommendations in the coming years especially in this category with an implausible amount of work and talent we see around.The first category of Original Soundtrack has some amazing tracks nominated and is going to be a difficult choice.  Have a look at the nominations  and our verdict on it:
Best Original Soundtrack
Sajna Ve Sajna – Udaari
Sange Mar Mar Ka Dil – Sange Mar Mar
Naina Rehtay Hain Kahain – Bin Roye
Tere Naal Mein Layan – Man Mayyal
Chali Simt e Ghaib – Deewana
Zara Yad Kar – Zara Yad Karhe
Mann Mayal: Blessed with the very soulful and unprecedented voice, Qurat ul ain Baoch has our votes for beautifully singing the track.  the soundtrack caught's everyone attention even before the drama got aired on Hum Tv. And soon became a hit and gained immense popularity after it was released. For me, when QB sings a song ,not only does it struck a chord but puts life into the song and make it feel so real.
Best Music Single
Saiyaan – Quratulain Baloch
Khair Mangda – Atif Aslam
Nakhun – Sajjad Ali
Jind Jaan – Shehzad Roy & Zoe
Pinjra – Noorie
Koi Ruke Mujhay – Farhan Saeed
 Khair Mangda: Atif Aslam always promises to surprise us with every new song he comes up with. the song was also the original soundtrack of the bollywood movie 'A flying Jutt'. Not only he is continuing to make waves across the border, his unique and heart wrenching voice is the reason we want him to win this award.
Best Music Video:
Koi Rokay Mujhe – Hamza Yousaf
Jind Jaan – Saqib Khan
Nakhun – Zaw Ali
Khair Mangda – Soheb Akhter
Saiyaan – Hamza Yousaf
Ho Jao Azaad – Kamal Khan
Hamza Yousaf for Koi Rokay Muje : The star studded video featuring Iman Ali, Farhan Saeed, Munib Nawaz and Sajid Hassan in the main lead is yet another milestone achieved by the singer /actor Farhan Saeed. With high end dynamic graphics and excellent cinematography makes the video of this song so. Kudos to the stylist, makeup artist, story boarding and other team members for making an excellent video. The audio is heart touching along with Farhan being experimental with his music as clearly it's not his forte and his soulful vocals carry us to the world shown in the video. A big shout out to Hamza for being nominated twice. He surely deserves this win.
For more exclusive updates keep reading this space!