Lahoris are famous for their love of food but we often feel that this love hasn't translated into fine dining ever. While our beautiful city is home to some of the most scrumptious desi/ street cuisine, we often miss the sophistication of a night out with 'grown ups' which is why whenever a new restaurant opens doors to customers, we're the first ones to line up for a table. Lahore Social was no exception. Opened by restaurateur Sohail Salahuddin, Lahore Social promised to be that one thing missing in our lives 'a nice place to have dinner'. His previous venture Upper Deck made waves in its own way and continues to serve customers. It is especially popular for lunch.
Coming back to Lahore Social, we have all heard mixed reviews about it since it opened and while some have loved it some have come back whining. Today, we share our guide to Lahore Social based on the few times we've been there.
What exactly is The Lahore Social?
The Lahore Social is a 'fine-dining' restaurant located on Mian Mehmood Ali Kasuri Road. The restaurant just opened shop a few months ago and since has been the talk of the town.
Don't go to The Lahore Social if you…
Want burgers and sandwiches (It's fine dining remember?!)
Want to be loud 
Want to sit in a smoke free environment (The restaurant allows smoking indoors)
Don't want kids anywhere around (yes despite being 'fine dining' families bring their children along)
Are looking for an economical meal 
Will end up ordering something predictable like Chicken Tarragon or Jalapeno & Wild Mushroom Chicken (because they taste exactly the way the do anywhere else)
Do go to Lahore Social if you…
Want to be where everyone is
Are a people watcher (anyone who is anyone dines there).
Want to enjoy a nice dinner with all the courses (portions seem mildly smaller than what Lahoris are accustomed to)
Want to try 'something different' – The gourmet menu offer some restaurant specials like duck, scallops, squid and more has hushed quite a few critics.
Long Story Short
If we had sat down to write this guide after our first visit to the restaurant, we may not have been so encouraging that you visit but in over six times we've been there (yes that's how many times we've been there already) the restaurant is improving unlike most places that open strong to eventually lose all interest and fade into oblivion.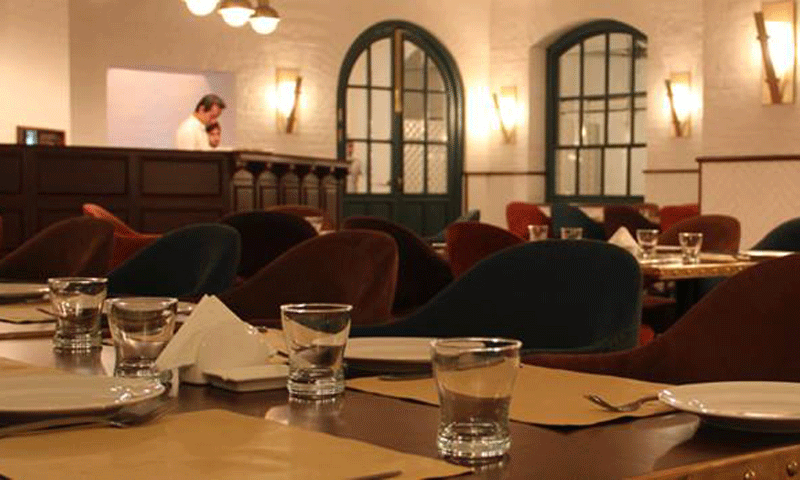 If you are going to Lahore Social, and want to know what we order… here it is. 
Appetizer
We Order: Salman Katsu Roll
We Avoid: Chicken Wing Poppers
Entrée
We Order: Squid Ink Pasta
We Avoid: Roulade of Chicken
Dessert
We Order: Chocolate Nemesis Cake
We Avoid: Vanilla Pannacotta with Raspberry Coulis
Images courtesy: The Sunday Magazine.