American Horror Story is a horror anthology that has been running since 2011. It released its 8th season this Fall and effortlessly and unexpectedly tied together all the previous seasons. It is possibly one of the best horror television series. With a cast that has grown into a powerhouse, exploring a range of characters as the series reconnoitered various horror genres.
The recurring American Horror Story cast include Evan Peters, Angela Bassett, Jessica Lange, Sarah Paulson, Kathy Bates, Frances Conroy, Emma Roberts, Taissa Farmiga and Cheyenne Jackson amongst others.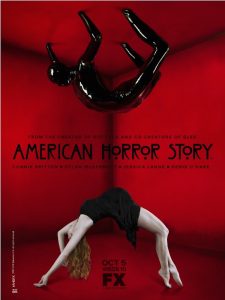 Season 1 'Murder House'
Murder House plays out the whole 'family looking for a fresh start' narrative. They move into a house only to discover that all its past ghosts still reside in it. The theme is ever so clichéd and severely over done. But what you don't expect is the birth of the antichrist that is a subject this season does not delve into until much later.
Of course, Jessica Lange kills it with her performance as does her daughter, Adelaide, played here by Jamie Brewer who is one of the first models with Down syndrome to walk the catwalk at NY Fashion Week!
Season 2 'Asylum'
Asylum takes yet another cliché. And turns it into a brilliant story line! It follows the story of patients at an asylum for the criminally insane in 1964 America. It has everything from demonic possessions, forbidden affairs, a ferociously ambitious journalist, alien abductions and unapproved science being tested on patients.
To top all of that, Jessica Lange plays a nun with a tortured past looking for redemption, Joseph Fiennes the founder of the asylum, Chloe Sevigny plays a mental patient and Zachary Quinto plays the resident psychiatrist turned psycho.
Season 3 'Coven'
Coven plays out a storyline in the current day and age of the surviving witches post the Salem trials. It takes one step further and takes us on a historical journey where we are introduced to the significance of New Orleans as a hotbed of Native American and African spiritualism, Marie Laveau a well known practitioner of voodoo in 1880's and Marie Delphine, the infamous serial killer, who tortured slaves and killed them in the attic of her house.
Season 4 'Freakshow'
This season has your circus-gone-wrong setting- titled 'Freakshow' it has everything from lone freaks of nature, to the spoilt rich brat who wants everything as and when he demands to a crazy killer clown who knows no discrimination when he kills.
Season 5 'Hotel'
Season Five was based on the actual Murder Hotel built by H.H.Holmes, save for in the series it was called Hotel Cortez and was located in L.A, California. In this season, we have a variety of monsters and men- vampire, serial killer, ghosts. To the all-star cast we have new additions the likes of Lady Gaga, Matt Bomer and Wes Bentley. Gaga plays a fashion forward vampire and Wes Bentley plays a homicide detective. We also get a fictitiously dark look into the married life of Rudolph Valentino and Natacha Rambova.
Season 6- 'Roanoke'
The name of this season may seem like it is not a horror cliché but rest assured it is! The beauty of the American Horror Story anthology is that it uses every single horror story cliché but by its own interpretation- people die, ghosts roam the earth but there are rarely any happy endings in any of these. The ghosts don't disappear and things are hunky dory.
The Roanoke Colony is known today due to their disappearance. There has literally been no explanation to date of what happened to them- there are stories of how they may have taken shelter from natural disaster with local tribes and eventually assimilated into them but nothing concrete to prove this has ever been found. The only clue ever found was the word 'Croatoan' carved into a tree. This season records the Return to Roanoke. After the success of an earlier documentary based on the life of a family who lived in a farmhouse in this area, only this time EVERYTHING goes wrong! Queue ghosts from the past and cannibalism.
Season 7- 'Cult'
The storyline for this could not have been more relevant. It takes place after Donald Trump is elected as the President of America. This season focuses on Ally, whose paranoia and phobias kick into full gear after the election as she is constantly harassed by killer clowns, and Kai, an alt-right Trump supporter who sees this turn of events as an opportunity to bring forth his brand of politics. This season broadly explores the underlying psyche of both. The far left and the alt right and how too far into anything eventually goes full circle.
Perhaps one of my favourite seasons from the series. In part due to its relevance to the political landscape and partly because all the actors do such a brilliant job that you don't suspect what happens next!
Season 8- 'Apocalypse'
This season starts of simple: the world has ended.
There was a nuclear fall-out and the world has simply ended save for those rich enough to afford a place at one of the outposts. Who ended it: a bunch of nerds thought it would be a great idea. Why: Because they thought the antichrist needed help. But what???: Well, the antichrist, played by the gorgeous Aussie actor, Cody Fern. He is very clueless and pretty much a mama's boy and not the usual bad boy many religious texts have made him out to be.
The season is still ongoing so I won't give away too much. Once you start watching it you will see how Michael Langdon, our resident antichrist brings all the previous seasons together in a killer blonde package!