If you love the finer things in life, you will love AMU, a real fine dinning experience in Lahore all thanks to Chef Shahnawaz.
Ps. They now have a cute outdoor set up as well.
AMU is really an intimate experience and a very exclusive place boasting of a well thought out menu. Everything is made in house and tastes pretty good. It is operational only Fri-Sun for dinner with a brunch offering on Sunday mornings as well.
We headed over last Sunday to experience the brunch. Having tried and being denied a place on the Sunday before, we were very excited to sample some of their food. We arrived to a rather empty restaurant around 11:30 am, but perhaps that was still early for an average Lahori on a day off. The great thing is they also welcome children which is sometimes not the case with such exclusive places. Here are something's to keep in mind before visiting.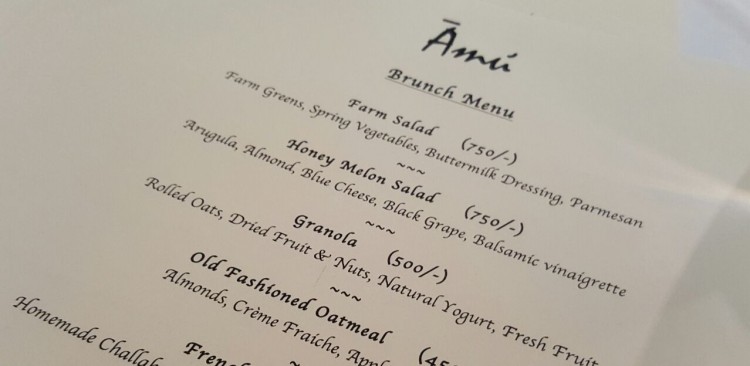 VISIT AMU IF YOU
You love fine dinning and understand that its the Chef's creativity you are paying for
Looking for a small intimate space and not expecting to see all of Lahore.
Are willing to pay more than Rs. 1500 per person (Brunch)
You want to have an experience where everything (even granola) is made in house.
Like sampling fresh ingredients.
Are willing to try dishes that may not be as you are used to having them.
DO NOT VISIT AMU IF YOU
Want to have a loud reunion with friends.
Want everything under the sun on the menu.
Are looking for more than 4 options for drinks at Brunch.
Are on a budget.
Can not have things any other way as you are used to.
Are looking for desi brunch options
Here is what we ordered
Granola – made in house and just perfect
French Toast-very generous helping
Pancakes-Huge serving
Baked eggs- on a bed of spinach and potatoes with melted cheese
Egg Benedict with Salmon-you wont be able to finish this off without eating your fork!
Bevergaes: Banana Smoothie and the perfect cup of coffee (not cappuccino)
Contact for Reservations: 0300-8180918