Out of 100 plus eateries, choosing which food stall to visit can be overwhelming. And this is exactly the feeling you get when you visit the Coca-Cola Food Fest happening at Royal Palm from February 3rd-February 5th.
We went to the first day of the  FoodFest with none other than Junaid Khan to pick his favorite food stalls, and the following have been picked out by the rockstar/serious foodie himself. COCA-COLA FOOD FEST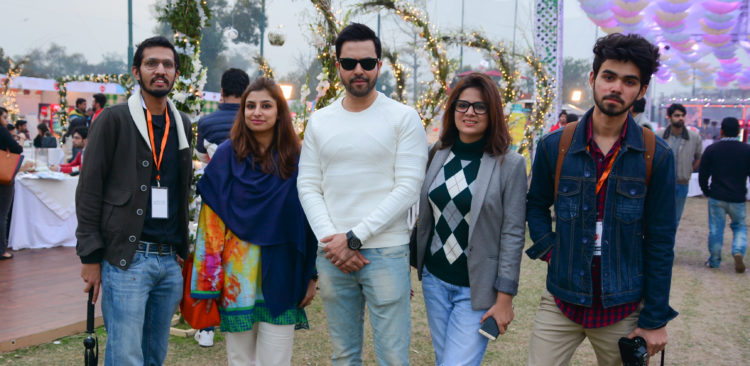 Awesamosas-  Yet again evincing their awesomeness at the Coca Cola Food Fest, Awesamosas is just awesome (how original are we). We tried different flavors, from the sweet to the savory including: Nutella, Reese, Apple Pie and Awesamosas Pasta Bowl (which was rather an unusual combo). Crispy, Hot, Fiery and scrumptious Awesamosas impressed Junaid (too bad he cant have them in Karachi) and the price point he felt was even more awesome (Rs. 250 for 3!) P.S (Awesamosas +Coke = Ecstasy)

oke Food Fest'17
Kashmiri Pakwan: Junaid's second stop was at the stall 'Kashmiri Pakwan'. He spotted a rare dish 'Fish Palak' being served with white rice, which according to him was the most rare yet inviting combination ever. It was full of flavor, and the spinach (palak) and fish were made for each other. Whether you are a Kashmiri or not, you have to try the Hareesa, ShabDaig and Fish Paalak there.  The price range is Rs. 200 per plate up to Rs. 350/-.

COCA-COLA FOOD FEST
Iran Zamin: Last but not the least, the third spot that Junaid couldn't resist was the Persian cuisine stall 'Iran Zamin'. A true food lover, he tried their 'Koobideh' platter at Rs.400. The Kabab and tikka were juicy and tender with all the right mix of flavours and spices perfectly blended. The complimentary barley soup had some amazing health benefits (full of vitamins and antioxidants), making it a must try for all the soup lovers.