This week's episodes of Dil-e-Momin were a treat for the audiences and fans who wanted Momin and Ashi to be together. It looks like they have gotten what they wanted. Read onto find out what happened in today's episode.
Momin buys garlands for Ashi

Continuing from the previous episode, Momin buys garlands for Ashi and leaves them at her front gate. She puts them on immediately.
Momin's family teases him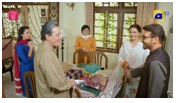 When Momin comes home, he sees his family preparing for his engagement. He tells them he can't marry anyone else but Ashi. They drop the act and tell him that they are indeed going to Ashi's place. Momin is elated when he hears this.
Momin and Ashi's engagement is a family affair

Both the families are happy on the evening of Ashi and Momin's engagement. On the other hand, Maya is upset when Momin keeps disconnecting her phone.
Maya remains in disbelief

Gohar overhears Momin telling another faculty member of his engagement. He tells this to Maya who thinks he is lying to her and refuses to believe him.
This episode was a satisfying one. Its great that Ashi won't be marrying Fakhar who was a sleazebag. Even Jamil has mend his ways and was seen smiling during the engagement. The performances especially Faisal Qureshi and Moomal Sheikh were amazing as always.
What will Maya do now? Will she still chase after Momin or marry Gohar? Will Fakhar create anymore troubles? To find out, keep watching DIl-e-Momin on Fridays and Saturdays at 8 pm on Geo TV.