Dil-e-Momin ep 4 has raised a lot of questions and sentiments.
So, here's a low down what happened in last night's episode.
Maya tells everyone about Momin "confessing" that he loves her

In Dil-e-Momin ep 4 , we saw Maya immediately calls her friends and meets them to break the news. Her friends are in disbelief but she assures them that he has accepted her love. Gohar hears of this and goes to talk to Maya about it. He tells Maya her mother wouldn't appreciate the decision she has made for herself but Maya tells Gohar to stay away from her matters. Angry and revengeful, Gohar gets his hands on Momin's house address and plans to go to his house.
Ashi's father, Shakeel, continues to create problems between the families

A man in the neighborhood owed Shakeel some money. He wants some more time but Shakeel is adamant that he needs his money immediately. Momin makes a request on the man's behalf but Shakeel ends up insulting him. With the will to help others, Momin gives the man money from his own pocket which Momin's father had given him to get some clothes for himself. He then returns it to Shakeel.
Maya tells her mother about Momin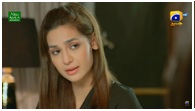 Maya's mother explains to her how it isn't wise to love someone so deeply without even knowing them properly. She tells Maya Gohar loves her and he is right for her. Maya tells her she doesn't care about anyone's love in front of Momin's.
Shakeel learns the truth about Momin and plans to insult his family

Shakeel overhears his wife and daughter talking about Momin and the man in the neighborhood and how he gave him the amount so he could return it to Shakeel. He is angry that over it but remains calm when his wife tells him that Momin and his family are coming over to ask for Ashi's hand for Momin. He tells her to let them come with the intention that he will say no and belittle them.
Our Thoughts
What will happen now? What will Gohar do now that he has Momin's address? Will he fight with him? Will Shakeel say yes to Ashi and Momin's marriage? To find out, keep watching DIl-e-Momin on Fridays and Saturdays at 8 pm on Geo TV.