Last night in Dobara ep 4, we see Mehrunnisa telling her son to stop wasting his time with Sehar when he tells her he embarrassed her by enjoying ice cream at the mall. To catch up on what happened in Dobara ep 3, click here

Mahir and Mehrunnisa meet in the park and they hit it off immediately. Mahir is able to strike up a conversation with her thanks to his charm and goofy personality. In the mean while, Mehrunnisa does as she pleases and lives her life to the fullest. She hangs out with her friends, wears the clothes she likes without caring for the world. She grows close to Mahir by regularly meeting him at the park. The two begin to share their problems with each other.

Mahir convinces his estranged parents to see Narmeen's family and fix their marriage. He steals from his stepmother and asks his mother to gift it to Narmeen on the occasion. Mahir's stepmother finds out and she arrives at the scene, creating a big ruckus and insulting Mahir and his mother. Mahir's mother is ashamed of him and says she wishes he wasn't her son.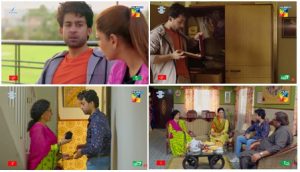 Narmeen is distraught and tells Mahir to never call her again because the two of them are over.

The show has brought our lead characters together and their meeting was pleasant just as expected.  Bilal Abbas Khan's mischievous but lovable Mahir is a scene stealer. His eyes reveal the pain he feels when his mother is insulted in front of him or when Narmeen calls him a thief. It is safe to say that Dobara will be a turning point in Abbas Khan's career.
What will become of Mahir now that his parents have disowned him? How will him and Mehrunnisa form a bond? To find out, keep watching Dobara on Wednesdays at 8 pm on HumTv.
You can watch Dobara ep 4 here