As women, we're on a constant merry-go round of role-play, work and occasional emotional out-burst. And when it comes to cherishing our body and feeling comfortable in our skin, many of us are at a loss. What we need to keep reminding ourselves, is that there isn't anything sexier than a woman who understands her body needs and is able to make the right choice of entering a room with her chin held high and an aura of confidence around her.
Finding the perfect bra, doesn't have to do with which one look the prettiest, or is available in our favorite color. Although such preferences add to the feel-good factor, it comes secondary in nature when you're on a mission to find the perfect fit. It's a lot like the Cinderella's shoe – but much more essential to that.
Triumph, with its 129 years of expertise in the lingerie making, has made it a mission–assisting women of all ages and sizes to beautify their image and endeavor towards a sensational lingerie fit. As a global leader in the lingerie industry, Triumph came to Pakistan in 1971 to manufacture undergarments that suits Asian women in sizes 30-46, Cups A-H.
Till date, it offers the widest selection of imported styles, with ranges including the Fashion Bras in lace, T-Shirt Bras, Strapless and Backless Bras, Classics, Cotton Bras, Minimizers and Maximizers, Body Shapers, Training Bras for Beginners, Sports Bras and Nursing Bras – all in wired and non wired, padded and seamless styles in varied colours. And now, they have proudly launched their website: www.intimatefashions.pk which allows women to conveniently shop for undergarments online in the privacy of their home.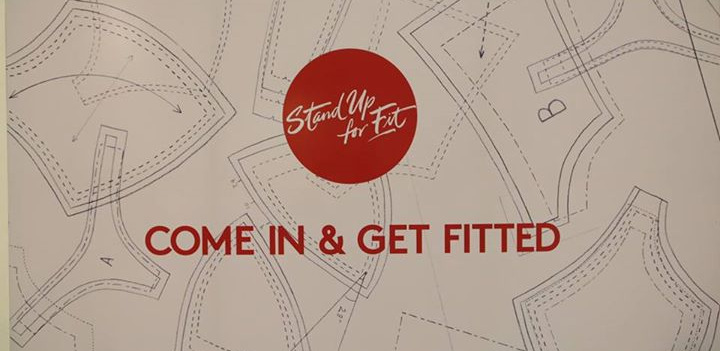 Recently Triumph held a special consultation activity all over the world to introduce the concept of the right fit, where women were welcome to get their questions answered and guided on how to choose the right bra. Karachi too saw Triumph making the special effort at Dolmen Mall in Clifton to make sure women are aware of the small things that make a big difference while shopping for undergarments.
But even with so much at our disposal, 7 out of 10 women often fall into the trap of wearing wrong bra size. To ensure the perfect fix that promises comfort and a flattering overall shape, SiddySays lists down the Do's and Don'ts for lingerie shopping that needs to be kept in mind at all times:
Do's:
1. Consult the saleswoman to take your exact size, and cup measurements.
2. Know what you're most comfortable at. Wired, non wired, padded or seamless, which one would do.
3. Know your preference. Be it for everyday use, any sports requirement or you're simply aiming for a perfect shape – there are variations present in all.
4. Visit www.intimatefashions.pk and calculate your bra-size along with browsing through options in the privacy of your home.
Don't:
1. Pick the one where you constantly need to adjust the bra straps.
2. Let the breasts bulge over the top of the cup in a double bump
3. Choose the bra that makes your breasts droop and look generally out of shape.
4. Choose the bra where band rides up in the back or the center fails to touch your breastbone
Triumph E Store Video from SiddySays on Vimeo
 Title Image:
Dollhouse Bettie