Eduardo Galeano wrote A Calendar of Human History: Children of the Days. Simply put, this book is a powerful piece of writing. 
"Not only men lost their heads. Women, too, were decapitated and forgotten, since they weren't important like Marie Antoinette."
"Olympe de Gouges was beheaded by the French Revolution in 1793 to remove her belief that women were citizens…"
This is just a small part of the 365 anecdotes or stories, however you wish to perceive it, that Eduardo Galeano shares in this book. In this history of mankind, Eduardo Galeano breaks down each and every story, day by day, over twelve months. Galeano's genius is his alternative fact finding and story telling, he endeavours for the truth and the truth underlying it.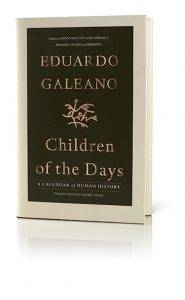 The book is a series of short vignettes. Each takes a day from the calendar looking at a historic event, a day of significance in history. But not from the eyes of the victor nor from those who command his quill. It explores the depth of human misery while it explores the depravity of our soul. It shows the slightest glimmer of hope found in a man or a woman, thousands of years ago, which lead to the survival of a nation or a race.
If you are easily offended, this book is not for you. Similarly, if your religious sentiments run too strong, I would not recommend it. However, if you are ready to put all you biases aside and delve into a book that will challenge you and everything you thought you knew about history and the human condition; then this book is absolutely unputdownable.
Where the book has lows, it also has highs- it shines a light on heroes unknown and unheard of- those who stood in the way of tyranny, women who were feminists long before first wave feminism came into play.
The book explores stories and anecdotes from around the world. It is a real page-turner. So before I give away too much, I would recommend that you read it! Galeano is an excellent storyteller with a poetic flair. This makes his book such an easy read, so much so, that you will end up reading and re-reading it!
About the Author
Eduardo Galeano was a Uruguayan journalist, novelist and author. He was an expert within his on right on South America and the many years of political unrest plaguing it. Galeano had a unique insight into historical events that very few authors in our time have had. His writing style was unique unto him. His political and social philosophy has been very well defined as well.