Upon hearing from a friend that Hoagies had opened up in Lahore, I experienced all sorts of mixed feelings. This only because I had just started my diet. I trusted this friends taste in food enough to ruin my diet and drop in for a quick bite.
A LITTLE ABOUT HOAGIES:
I had the opportunity to meet, both, the Hoagies Franchisor and Franchisee. The Founders of Hoagies worked in the food industry in San Francisco for a number of years. Upon their return to Karachi they decided to open up a sandwich shop with a view to sourcing everything locally and making everything in-house.
Their vision was clear: to serve freshly made food whilst working with homegrown ingredients sourced from local vendors.  Hoagies opened its doors in Karachi in 2013, where it continues to be a roaring success and the same has been brought to Lahore. Hoagies make everything in-house from their bread to their sauces- nothing is pre-made. Everything is made fresh!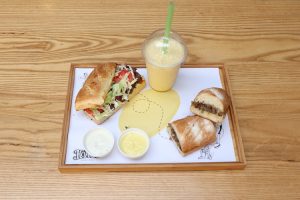 THE MENU:
Hoagies offers sandwiches- all sorts, whether you like bread rolls, flat breads, wraps or tacos. They have a range of fillings: vegetarian, chicken, cheese, fish, shrimp and beef. You can choose fries and a drink with it. If you are on a diet you can simply choose a salad. If you want to load up on carbs, because why not-they offer loaded fries as well. Their dessert menu is short and sweet: cookies, sweet hoagie and something called 'hooked on chocolate' which I have yet to try!
THE ORDER:
It was a Saturday and they had only had their soft opening. I ordered the Philly Steak Sandwich in the French Baguette, whilst my friend opted for the Hogalicious in the Jalapeno Cheddar Bread. They also have the option of scooping your bread, which can remove some of the extra carbs, which I obviously opted for as a consolation to ruining my diet.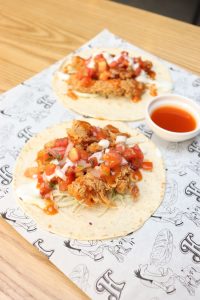 THE EXPERIENCE:
When our food arrived I started analyzing my French Baguette- it's easier to call any long loaf a French baguette without understanding what actually makes this a French baguette. The crust was a lovely golden brown colour, crisp enough to crackle but not enough to lose its structural integrity with the very first bite. It was a pale yellow colour with complexity in flavor.
I absolutely loved the bread. The Philly Steak sandwich had the right ratio of filling to bread but I felt that the beef was a little tough to chew, a comment that I passed onto the management immediately. The fries were fresh, lightly salted and did not have that lingering smell of oil one so often gets with fries. The Hogalicious in Jalapeno Cheddar bread was great and I absolutely loved the hickory smoked bbq sauce. Both the sandwiches came with lettuce, tomatoes, onions and the 'dirty sauce' as part of the filling.
My friend and I both thoroughly enjoyed our meal at Hoagies and I found myself ruining my diet for a second time and placing a takeaway order a week later. This time around I ordered Fried Chicken Tacos, Chipotle Chicken Sandwich in French Baguette, Chocolate Chip Cookies and Banana Smoothie. The Fried Chicken Tacos were simply amazing! I did not care to share them with anyone.
The soft taco shells were amazingly fresh: they did not break, they were not soggy, they held their shape and their form through each bite despite the generous filling of batter fried chicken, cabbage slaw, chipotle dressing, pico de gallo, a light drizzle of ranch dressing and a squeeze of lemon juice. I finished my tacos in under seven minutes to my own surprise! The hoagie, as expected was great.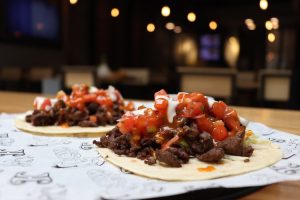 THE DESSERT:
The cookies were warm when I picked them up so I obviously could not resist the urge to bite into them and boy, oh boy were they good! They weren't too sweet and I got a decent amount of chocolate chunks in all my bites! Best of all, I did not feel the urge to wash them down with water, as it happens so often after having super sweet cookies! In my humble opinion, they were just right. I actually got a few extra cookies and stashed them in my freezer for late night cravings.
THE VERDICT:
When it comes to good sandwich shops that serve decent bread, an array of fillings and sauces, Lahore has very limited options. Hoagies is a welcome addition. It's a great place for a quick bite, whether its lunch or dinner. It's centrally located and their staff is super friendly!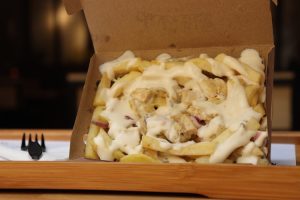 If you are a sandwich lover then Hoagies is a great place for your sandwich fix and best of all its light on your pocket. An average meal for two people costs around Rs. 1200 +tax.
Hoagies is located at 116 P M.M Alam Road, Lahore. They are open from 12 pm to 12 am.