P.F Chang's China Bistro opened its doors in Lahore, Pakistan, this fall. It has 260 branches worldwide. I am not a big fan of P.F Chang's but as it goes, I had to try it in Lahore just to see how similar it is in taste and menu offerings as its branches abroad.
I had always heard about P.F Chang's China Bistro from family and friends in America and also friends who frequented Dubai. Truth be told, I was never tempted to try it primarily because I am not a big fan of Chinese food other than Dim sum. The first time I tried P.F Chang's China Bistro was because it had just opened up in London. And we couldn't get reservations anywhere half decent owing to it being a weekend. I wasn't impressed. I have also visited one in Chicago and yes, my mind was pretty much made up at this point. The flock made its way to M.M Alam Road, as did I.
What we ordered:
Dynamite Shrimp

Buddha's Feast

Kung Pao Chicken

Lo Mein

Mongolian Beef

Chicken Fried Rice.

Jasmine Rice

Mocktail
The Takeaway:
Dynamite Shrimp:
Everyone at the table loved the Dynamite Shrimp, which are tempura fried shrimp, served in a martini glass. What makes the shrimp 'dynamite' is the Sriracha aioli they are tossed in. This was definitely the highlight of our meal. Getting the tempura batter just right is definitely not easy, the batter was light and airy and not thickly coated or oily.
Buddha's Feast:
Buddha's Feast is a vegetarian dish of seasonal vegetables and tofu. This was cooked in a savoury soy sauce with baked tofu, carrots, broccoli and flat beans. I love vegetarian dishes, so I thoroughly enjoyed how the flavor of the baked tofu popped with the savoury soy sauce.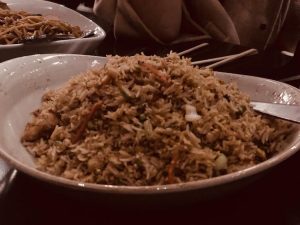 Kung Pao Chicken:
Kung Pao Chicken was as expected: green onions, peanuts, chili and chicken cooked in a Sichuan chili sauce. The chicken was crisp and with the Sichuan peppers, it hit home with its flavor and texture. It paired well with our order of the jasmine rice.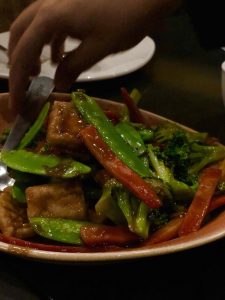 Mangolian Beef:
The star of our mains was definitely the Mongolian beef. The beef was cooked well. It was tender and easy to chew. The Mongolian Beef uses meat from the flank and was cooked in a sweet soy glaze with a hint of garlic. It was served with shoots from spring onions that cut through the sweetness by adding a hint of peppery flavor.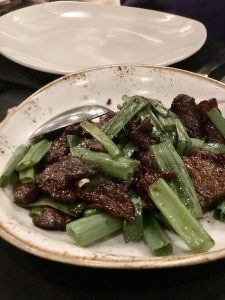 Stir-Fry Noodles:
How could we go to a chinese restaurant and not order stir-fry noodles? Of course we order the 'Lo Mein' that were egg noodles, mushrooms, seasonal vegetables fried with soy sauce. I loved the range of vegetables used in the Lo Mein; which had bean sprouts, carrots, spring onions and onion.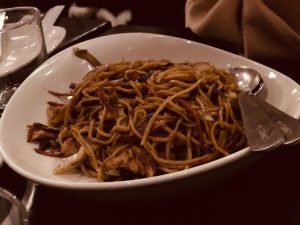 Mocktail:
I ordered a mocktail and I was thoroughly unimpressed as it was nothing more than boxed juices mixed together. We were quite full by the end of our meal, so we did not bother with dessert.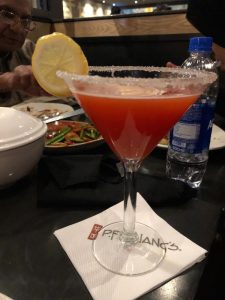 The winner:
Mongolian Beef and Dynamite Shrimp.
The cost:
A trip to P.F Chang's China Bistro would definitely put a dent in your wallet especially if you are footing the bill. It was just enough food for five people who don't eat a lot. The consideration to order more was definitely there. It cost about 10,000 rupees for the food and drinks.
For their food philosophy of 'farm to wok', the food did taste fresh and the ingredients used were a testament to that. However, I don't think I will be going there again, unless I absolutely have to. Our local Chinese food is pretty decent without the inflated price.