To survive in the restaurant business, you need to be in the forefront and give a tough competition to your competitors since there are new restaurants opening up every other week – and then there was VEERA 5 THAI & CHINESE. The news of a new restaurant in Phase 5 DHA Lahore was abuzz from many, with the majority commending on the taste and quality of their food, so we had wanted to drop by at Veera 5 for a while and give our opinion on what we thought about the place and if it is/was worth our time and money.
We entered during lunch hour and the place, to our dismay, was deserted, except for the loud music. Humph! Our first impression of Veera 5 Thai & Chinese was that of a minimally decorated lounge with wooden chairs and tables. Not much attention was paid on the décor so we thought of the whole setting as too plain and amateur for our visual appeal.
The menu, more or less, consists of standard Thai and Chinese dishes with a few options for seafood. What we like was the fact that the management has mentioned the number of serving for each dish, so you know how much you want to order, and secondly, you also know the seasoning of each dish, which can help you in ordering according to your taste.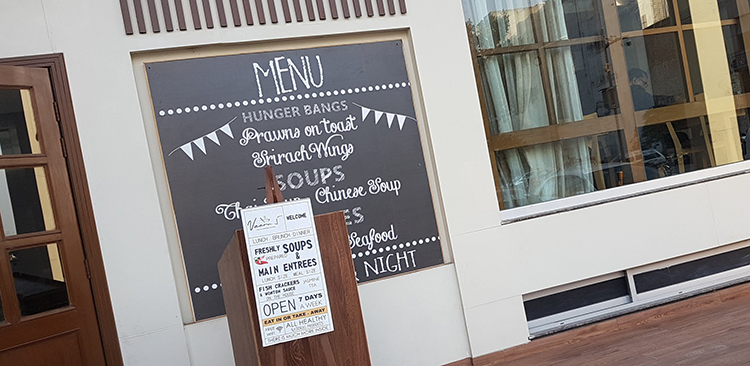 RATING
Food: 3.5/5
Service: 4/5 (since we were the only ones there)
Décor: 2.5/5
Here is your guide to Veera 5 Thai & Chinese: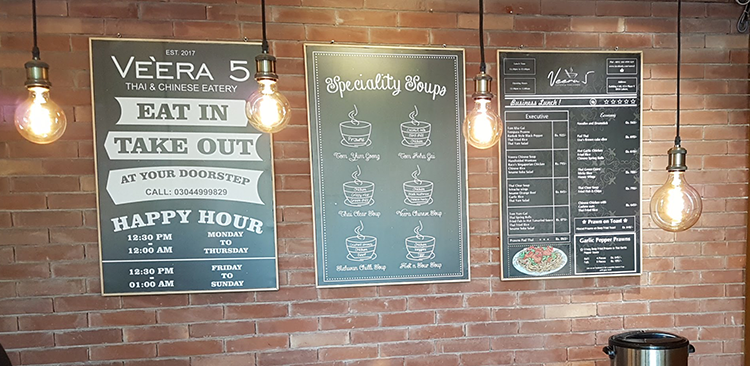 GO TO VEERA 5 IF YOU:
Are looking to eat for one person serving
Want to have good desi style Thai & Chinese food
Are looking for a comfortable and cozy place with minimum decor
Are looking for a small menu for business meetings
DO NOT GO TO VEERA 5 IF YOU:
Like big portions because one serving order means just for one person only, which others restaurants don't usually adhere to
Aren't looking to spend a little extra money on a mediocre range restaurant
If you don't live in DHA because it won't be worth it
So here is what we ordered:
Starter:
Fried Fish & Chips
Mains:
Chicken Manchurian
Thai Style Chicken with Cashew Nuts
Bian Chao Beef with Chillis
Chinese Fried Rice
Hot Garlic Rice
Sticky Rice