Eating out in Islamabad often comes with some element of surprise. When Angeethi opened up, we were in two minds to try it but since it boasted of quintessentially desi cuisine, our hearts and guts were in unison and we took the chance.
Situated right opposite the F-7 Markaz, Angeethi is very centrally located. For those wanting to stay within the comfort of city limits, Angeethi is right in your way. Angeethi has a grand entrance with seating both inside and outside. Since the weather was in our favour, it being the bi-polar breeze of February, we decided to sit in the veranda. It was clear from the outset that a lot of money had been spent on the interior and décor of the restaurant.
In all fairness, we did not know what to expect: we were served a complementary starter of Popadums, Katchumbar salad, Imli chutney and Mint chutney.  We thought we were off to a good start. We hadn't heard anything good or bad about the restaurant. The menu listed all desi food basics ranging from barbeque to handis and daals.
What exactly is Angeethi?
Angeethi aspires to bring 'Punjabi' desi food to the 'discerning diners' of Islamabad. Whether or not they have managed to do that depends entirely on your taste buds and your proclivity for desi food.
Don't go to Angeethi if you…
Are in the mood for proper desi food;
Are Punjabi;
Expect proper desi food;
Couldn't care less about the ambiance;
Are expecting a reasonable serving;
Want an economical meal; and
Want to try something new.
Do go to Angeethi if you…
Want to try something new on someone else's expense ( we had a friend treating us);
Are easily impressed by the décor rather than the food;
Would want to be seen at a centrally located restaurant;
Enjoy decent interior and walls laded with paintings;
Don't mind substandard kebabs and slice cheese- Cheese Naan.
Want to stay within the city and not venture out to Monal or Habibi.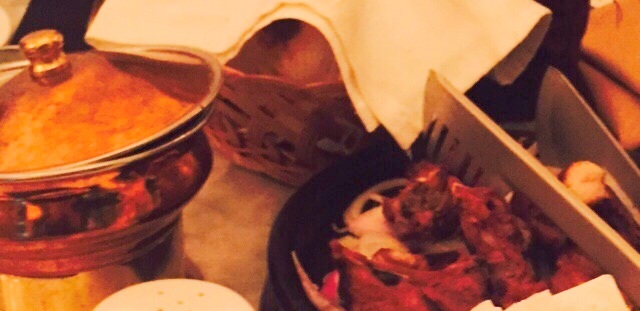 Long Story Short
If I have to go for the food, I'd definitely go elsewhere in the future unless Angeethi serves something new and exciting.
If you are going to Angeethi, and want to know what we ordered…here it is:
Appetizer
We Ordered: Cheese Naan and Walnut Chutney.
We'd Avoid (in the future of course): Walnut Chutney and Cheese Naan
Entrée
We Ordered: Chicken Cheese Kebab, Namkeen Tikka.
We'd Avoid (in the future of course): Chicken Karahi Makhni, Palak Paneer and Ichari Boti.
Dessert
After the experience we had, we avoided dessert from Angeethi and went to a more trusted source for some much needed comfort.
—-
Khadija Bano Malik, the legal eagle, joins Team SiddySays with this debut article. We are extremely excited about the unique perspective Khadija will be adding to the blog in the coming days… for now here is one big fat 'hey ya' from Team SiddySays to its brand new member Bano.