We have always struggled to come up with easy Desi Meethas for Iftar parties. Mishal gave is this quick and easy recipe to make Gulab Jamuns
Ingredients:
NIDO milk powder: (1) cup
Sooji: (1) Tbsp
Baking powder: (1) tsp
Oil: (1) Tbsp
Large egg: (1)
Sugar syrup:
Sugar: (3/4) cup
Water: (1.25) cups
Small illaichis: (2)
Method:
Keep the water, sugar and illaichis on heat for a quick boil and then keep on lowest heat while you make the jamuns. Mix the dry ingredients and add in the large egg and oil. Kneed into a soft dough. Oil your hands lightly with olive oil and make small balls (they will almost double in size later). Deep fry on medium heat till they rise and are golden brown. Transfer to the sugar syrup and serve hot !
—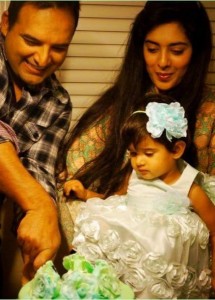 About Mishal
I hated the idea of any housework, esp cooking. I got a lot of flak for that, coz I couldn't even boil an egg properly, although I love to eat.
Marriage and moving to a foreign land with halal and non-halal issues, was the start of my timid ventures into the kitchen area. Armed with my basic love for food and a few favourite recipes, I soon discovered potential of cooking and baking, and the culinary miracles that can be created in the kitchen! Now at last, my love for cooking matches my love for eating and feeding my family!