Khaddar fabric is good for winters because it is a thick, heavy fabric that provides warmth and insulation. It is made from 100% cotton, which is a natural, breathable material that allows the skin to breathe and stay comfortable in cold weather. Additionally, khaddar has a soft, plush texture that feels comfortable and cozy against the skin, making it ideal for wearing in the winter months.
GulAhmed has really outdone themselves this year with a stunning array of khaddar suits. Check out their fashionable collection to find something that will suit your style!
We are totally smitten by this black printed khaddar ensemble. It's the ideal addition to any wardrobe to bring your winter look to perfection. We especially like how the structured geometric patterns are feminized by introducing floral printed motifs.
This cute pink ensemble is both delicate and stylish. The printed geometric style of the dupatta brings a touch of glamor to the printed look of this khaddar three-piece suit.
We're in love with this bottle green 3-piece unstitched khaddar suit that has an embroidered dupatta. The solid-colored shirt comes with a gorgeous border for the hemlines and a separate stunning neckline lace. The overall effect when stitched will wow the crowd at any winter formal event.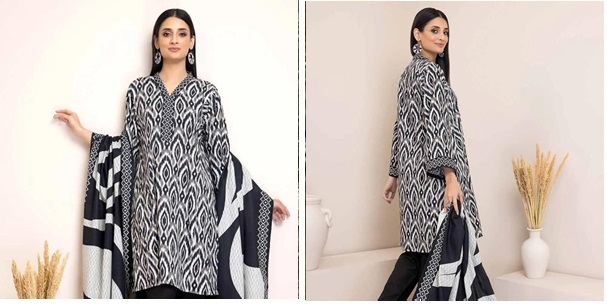 A woman's fascination with classic patterns is eternal and this three-piece monochromatic ensemble is a great example. This attractive outfit can be styled in a variety of ways with its printed dupatta, dyed trousers, and printed shirt. A great fit for your Sunday brunches!
Winter doesn't mean you can't wear floral prints! This off-white khaddar suit with a cheerful design on the shirt and the dupatta ( plus dyed trousers) will surely put a smile on your face on hazy winter days (or nights).
With winter fast approaching, make sure you're ready with all the necessary items! Visit your local IDEAS store or take the smarter option and shop online from gulahmedshop.com with a delivery fee of just PKR 99. International shipping is also available at a reasonable cost.