Hum Tum remains the top choice of viewer's and audiences alike. The show is raking in great TRPs and has millions of views under every episode on Hum TV's official YouTube channel. This shows that despite all the shows on air right now, Hum Tum has found its place in the minds and TV-watching routines of the viewers. This is also because of the simple yet entertaining storyline, interesting quirky characters and funny situations. Read onto find out what happened in the latest episode.
Sarmad(Junaid) arrives at the hospital to check on Maha(Sarah). While he is there, he takes care of her, feeds her fruits and cheers her up. We can see something budding between the two of them. Even Maha starts to soften up towards him.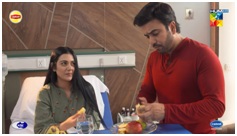 Professor Jabir(Saifi)introduces his handsome son Sarim(Omar)to Neha(Ramsha)and asks him to help her out in the project. Neha, who can see that it is making Adam(Ahad) jealous, asks for his help and can't stop smiling while talking to him. Adam tells her he doesn't need Sarim's help to which Neha says he was offering to help Neha and not him. The two even exchange numbers, much to Adam's annoyance.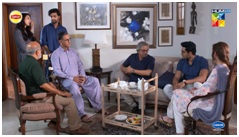 Sultan(Farhan) goes over to Qutub House to say no to Maha's marriage with Sarmad because she is a divorcee, but changes his mind when he finds out Qutubuddin(Adnan)has a lot of property that he will leave behind for his daughters. Being a selfish and greedy man, he presents Sarmad's proposal for Maha in front of Qutubuddin.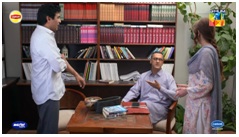 Neha tells Maha about Sarmad's proposal. Maha is worried and isn't too happy about it since she still doesn't think of Sarmad that way. All she wants is to complete her PhD and doesn't want to get married anytime soon. Neha tells her to say no to the proposal because Sarmad is no match for her.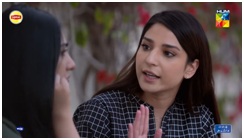 While Sarmad is elated and beyond happy, Adam is sure their father saw some material, personal gain in this situation because mere minutes ago, he was strictly against Sarmad's marriage with Maha.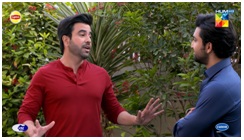 The screenplay and direction remain amazing as always. The director's grip remains strong as ever on the narrative and how the story is moving forward. The acting is fabulous across the board. The four leads are dynamic and a pleasure to watch on screen but Junaid Khan as Sarmad and Ramsha Khan as Neha are too good for words. Their scenes are easily the best ones in the episode.
What will happen next? Will Maha say yes to the marriage? To find out what happens next, keep watching Hum Tum at 9 pm on Hum TV Network and watch this space for more reviews.