We are loving how Sarmad played by Junaid Khan's romantic track has finally taken off in Hum Tum. The show has maintained a good pace so far but any more delays in the moving his track with Maha (Sarah) and things would have become tedious. But that's not the case anymore now. Fans of Junaid Khan and Sara Khan can rejoice because Maha and Sarmad are about to become a couple that too in the most hilarious and dramatic way. Read onto find out how that happened in the latest episode.
Neha tells Adam (Ahad) and Sarmad that it is a clear cut no from their side regarding Maha and Sarmad's relationship. The two start fighting again and Sarmad intervenes while still being upset about Neha rejecting his proposal on Maha's behalf.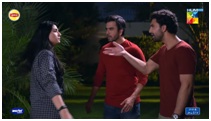 Later that night, robbers make their way in the Qutub house and want to steal all the jewelry that is meant for Maha's(Sarah)wedding. The robbers change their plans when the leader of the gang turns out to be a big fan of Daddu's(M.Ahmed) Tik Tok account. They don't steal anything and leave after clicking a selfie with Daddu.

However, Qutubuddin(Adnan), who didn't know about his father's Tik Tok account is angry when he hears it from the robbers. He wants to see the account but Sasha(Anoosha) reveals the account with a million followers was hacked and deleted. The minute Daddu hears it, he passes out on the ground.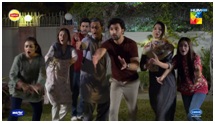 Continuing with the theme of talking about an important societal issue, Maha talks to Qutubuddin who is angry at his father over his Tik Tok presence. She says where were all the naysayers when Daddu was alone and sad after their Dadi's demise. She also reminds her father how instead of spending time with Daddu, Qutubuddin left for USA. She says the tragedy of our society is we treat our elderly like furniture that is put in one corner of the house. Maha says we think fulfilling their needs is enough so we don't spend time with them. Daddu joined Tik Tok because he wanted to occupy himself with something.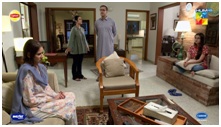 Adam puts a heating pad on Sarmad's(Junaid) injuries. He asks him why did he have to become a hero to which Sarmad says the robber had aimed his gun at Maha and he couldn't just sit there without intervening.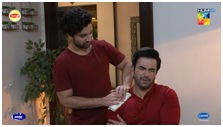 Neha, being the loving granddaughter, defends Daddu in front of her father. She says Daddu never posted content that would bring any shame to the family to which Qutubuddin says he knows that.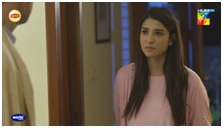 The latest episode was a really entertaining one. Every one shined while they were on the screen. Ramsha Khan and Junaid Khan were great. Ramsha was hilarious when she prolonged her namaz to avoid the robber. Junaid trying to reason with the robber was a laugh out loud moment. We also see how Maha likes that Sarmad stood up for her in front of the robbers.
What will happen next? Will Maha say yes to Sarmad's proposal? To find out what happens next, keep watching Hum Tum and watch this space for more reviews.