Hum Tum remains consistently entertaining. The show is a delight to watch and is the most loved program on air right now. This is evident from all the praise and acclaim the show is getting from critics and audiences. Fans of the four brilliant leads are loving the fresh pairings of Ramsha Khan and Junaid Khan, who are killing it with their comic timing and dialogue delivery, with Ahad Raza Mir and Sara Khan respectively. Read onto find out what happened in today's episode.
Sarim (Omer) meets Adam(Ahad) and Neha(Ramsha) in the university so that they can sit and talk about the project. Adam gives him the cold shoulder and maintains that they don't need his help. To irk Adam more, Neha continues to involve Sarim in the project. Before they can sit and talk, Adam abruptly leaves because his father, Sultan(Farhan), has texted him to take Qutubuddin(Adnan) to the hospital. Hearing that, Neha also leaves because she is worried for her father. Upon returning home, Neha finds her father perfectly healthy. She accuses Adam of lying to her.

Neha is persistent towards Maha(Sarah)to say no to Sarmad's(Junaid)proposal. She asks Maha to call Sarmad and say no to him. Sarmad asks her to meet at his restaurant and Maha agrees.

Sarmad's excitement is unmatched. He asks Adam to pick out a shirt for him and gets ready to meet Maha. Sarmad is a man hopelessly in love. It's as if a kid is getting ready to go to school to appear in an exam that he is well prepared for but doesn't know how he will score.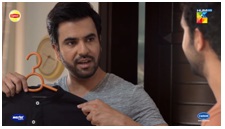 At the restaurant, both Sarmad and Maha are present with their respective sibling. While Neha doesn't want Maha to be fooled by Sarmad's words, Adam is there for his brother and to support him.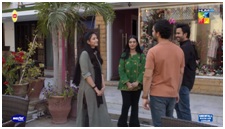 Sarmad explains to Maha how he fell in love with her the day she signed her nikah papers with her head bowed down. There's so much honesty and respect in his words that Maha couldn't say no to him. It is evident that she has no problems in marrying him.
As it was expected, Neha is upset that Maha has made up her mind to marry Sarmad. This was also clear with how Maha chose to come home with Sarmad instead of her.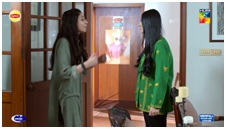 At the end of the episode, Sarmad overhears Adam convincing Sultan to say no to the marriage because he doesn't like their family. There's an expression of extreme betrayal and deceit on Sarmad's face. We love how Junaid Khan adds so much melodrama to his performance.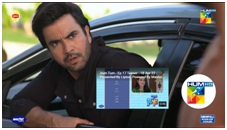 It will be interesting to see what happens next? Will Adam and Neha be successful in breaking up Sarmad and Maha's marriage? To find out what happens next, keep watching Hum Tum and watch this space for more reviews.