Hum Tum continues to deliver the laughter and entertainment. The show has been on for three weeks but has established a massive fan following for itself thanks to its comedy, quirky characters and crackling dialogues. The show is raking in huge numbers on both TV and on Hum TV's YouTube channel. The credit for the show's success also goes to its amazing lead cast led by Ahad Raza Mir as Adam, Sara Khan as Maha, and the two who have stolen every scene they were in; Ramsha Khan as Neha and Junaid Khan as Sarmad. They are doing full justice to their characters. Read onto find out what happened in the last two episodes.
Sarim (Omer) completes Neha(Ramsha) and Adam's(Ahad)entire project, much to their dismay. They wanted his help, not for him to do the entire work. After agreeing mutually, Neha declines to submit Sarim's work as hers and Adam's. Sarim feels dejected but appreciates Neha's honesty. The two begin working on the project again.

Sarmad(Junaid) takes Maha(Sarah)out for shopping. He is the happiest when he is around her. While they are at a store, Qutubuddin (Adnan) and Sarim arrive there too and the two narrowly escape them.

Sultan (Farhan) takes Daddu's (Muhammad Ahmed) Vespa but it gets stolen. Neha says Sultan must have lost it on a bet because that's what he always does. Sarmad and Adam arrive at the time with the Vespa's keys. They hear everything Neha was saying about their father and are clearly upset. They tell them that the bike was towed away because it was in the no-parking zone. While Adam is livid, Sarmad tries to calm him down.

Maha then messages Sarmad telling him that regardless of what happened, they are meant to be together to which Sarmad starts dancing. It is cute and hilarious at the same time.
Neha brings over a cake at Adam's house as a way of apologizing for what she did.
Neha and Adam bury their hatchet for the time being and work peacefully with each other.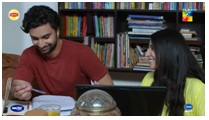 At Sarmad and Maha's mehndi, Sarim is invited too with his father Professor Jabir(Saifi) who really wants the two get married. Watching the two spend time together, Professor Jabir asks Qutubuddin to announce Sarim and Neha's engagement at the mehndi ceremony which leaves Qutubuddin speechless.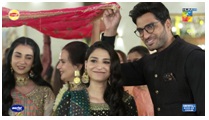 What will happen next? Will Neha marry Sarim? How will the mehndi ceremony go? To find out what happens next, keep watching Hum Tum and watch this space for more reviews.