Hum Tum has entered interesting territory where love has blossomed between two unlikely people. Adam(Ahad) has fallen for Neha(Ramsha)who is finding it hard to navigate the situation. That's because the foundation of their relationship has always been competition, banter and arguments. All of that has been replaced by jealousy, stolen glances, avoiding each other's gaze, confusion, and the most important of them all; love. Read onto find out how our favorite cat and mouse duo are tackling this situation of their lives. The performances and chemistry between the four leads remains the same. Ramsha Khan as Neha owns the show while Junaid Khan's Sarmad is the voice of reason. Both of them are killing it as their characters.
Neha and Adam leave for Islamabad for their science project. Adam is so smitten by Neha he has started seeing her in slo-mo.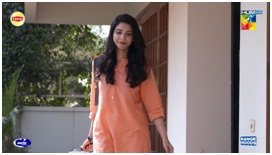 Maha(Sarah)wants Sarmad(Junaid) to join university so he can complete his graduation and she wants Sultan(Farhan) to take over operations at the restaurant; a thought that really scares Sarmad because he knows his father will run his restaurant down to the ground.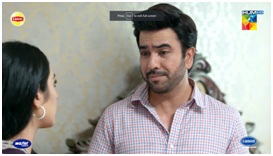 Sarim(Omar)shows up at the airport to receive Neha and Adam when they return from Islamabad. Sarim keeps praising Neha while completely ignoring Adam.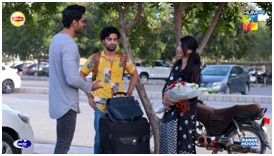 Adam asks Neha if she loves Sarim to which she says she doesn't but she has no problems with marrying him since he is her father's choice.

Adam realizes he has completely fallen in love with Neha when he can't stand Sarim being around her.

As a way of spoiling Neha and Sarim's lunch, he texts her from Qutubuddin's(Adnan) phone telling her that her mother has fallen ill. Neha immediately asks Sarim to drop her home.
Neha eventually finds out it was Adam who texted her about her mother's ill health. She is about to expose him in front of her father but is interrupted when Sasha(Anoosha)and Maliha(Aina), who had gone missing, return home.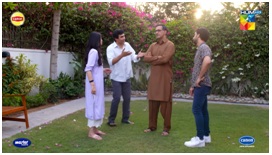 Neha asks Adam why he did it to which he says he doesn't like her spending time with Sarim. Later, he confesses his love for Neha to her, leaving her shocked and surprised.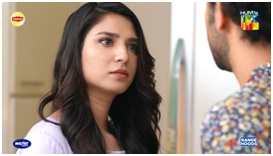 After that, Adam is nowhere to be found. He returns home seven hours later. Here, we see Sarmad's protective and caring side towards Adam. He knows something's up which Adam is not telling him.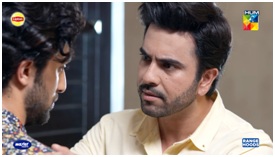 Neha confronts Adam finally. She tells him she doesn't have time for love but she misses their friendly rivalry and the spirit of competition that was between the two of them. They decide to put love aside and go back to their old ways but this time as friends and then shake hands on it.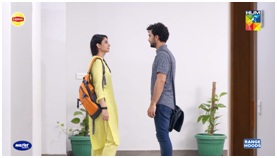 It is interesting to see what will happen next? Will Neha also fall for Adam? To find out, watch this space for more reviews and keep watching Hum Tum every day at 9 pm on Hum TV.