The 'Distinguished Gentleman's Ride' took place in style last week in Lahore and 400 other cities including those in Australia, Mexico, Brazil, Canada, Ecuador, Greece, India, Iraq, Spain, Netherlands, South Africa to raise awareness regarding Prostate Cancer in men. Around 5000 riders of vintage motorcycles took part and in grand style, dapper gents and elegant ladies rode their steeds in these cities, spreading merriment and joy throughout their communities whilst reminding us of the second most frequently occurring cancer in men around the globe.
More than 30,000 smartly-dressed gentlefolk in over 400 cities straddled the saddles of their café racers, bobbers, scramblers and other marvellous custom motorcycles to raise fund for the cure for prostate cancer.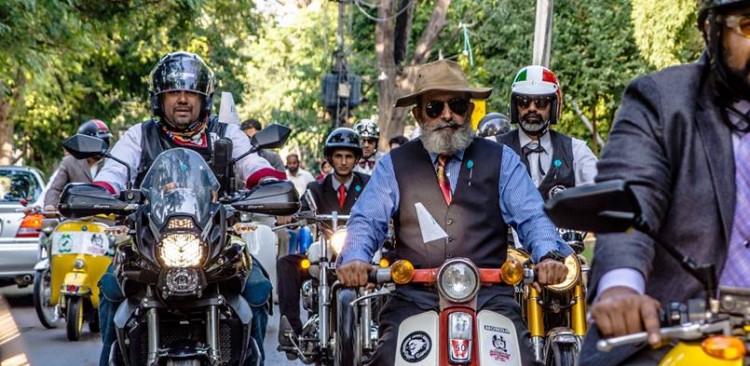 In 2014, over 20,000 participants in 257 cities in 58 countries raised over $1.5 million (USD) for prostate cancer research. This year the goal was to double last year's numbers
The Distinguished Gentleman's Ride was founded in 2012 in Sydney Australia, inspired by a photo of Mad Men's Don Draper astride a classic bike and wearing his finest suit. It was decided a themed ride would be a great way to combat the often-negative stereotype of men on motorcycles, whilst connecting niche motorcycle communities together. That first ride brought together over 2,500 riders across 64 cities. The success of the event encouraged the founder to consider how it could be used to support a worthy cause. And the rest, as they say, is eloquently attired history.
"For a lover of bikes, riding gets special when it's for a good cause,' commented Sarosh Butt, a distinguished gentleman rider, 'it is like the shriner's parade in nicer clothes with less Ilumintai,'
We are happy to see such initiatives taking place in Pakistan to raise awareness of serious and not much talked about ailments like prostate cancer, and we hope to see more and more ladies and gentleman join in for next year's ride!