The London Design Biennale 2018 has taken place at the start of September at the prestigious Somerset House in London. Wagging Tongues Productions, a UK based company, represented Pakistan at this event through the installation of the Pakistan Pavilion, titled "Aangan".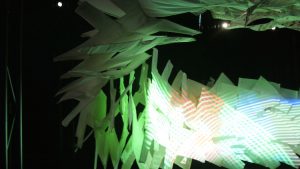 The art piece, created locally by textiles and artisans, celebrates Pakistan. Therefore, the Wagging Tongues Production collaborated with "Kaarvan Crafts Foundation" to create this installation. The foundation, Kaarvan, is working to empower rural women by providing them with vocational skills. As such, 60 women from the foundation diligently worked for 2 months contributing to this piece. Certainly, this helps women in finding skill-based work and also it helps them in showcasing a positive and progressive image of the country internationally. Hence, an international platform like the Biennale in London, is the best place to exhibit an installation like Aangan.
Therefore, to understand the concept better, we spoke to Mariam Majid. She is the Co-Founder of Wagging Tongues Productions. She says, "We are delighted to have been chosen to represent Pakistan's design at the London Design Biennale this year." Furthermore, "… (it) is a sculptural installation occupying one of the most impressive rooms at Somerset House."
Mariam Majid tells us that there are over one hundred cotton garments, hand embroidered and stitched by female artisans. They construct a rising helix to a height of almost 4 meters. The installation has interactivity via film projections to create an immersive experience. Therefore, it celebrates the pivotal role of women in the textile industry.
The London Design Biennale is one of the main events in the global cultural calendar. It showcases a number of ambitious designers including innovators and other cultural bodies.