Mashkoor Raza is one of Pakistan's most prominent painters and calligraphers- not just because he has been painting since 1972, but also because his work has established him as a global artist. Over a span of thirty years, Mashkoor Raza has fashioned a unique style of painting. Undoubtedly he is an abstract artist, but his use of the abstract form is singular. He has been labeled as an impressionist, a cubist and a distortionist, but the truth is that he is all these—and none at the same time.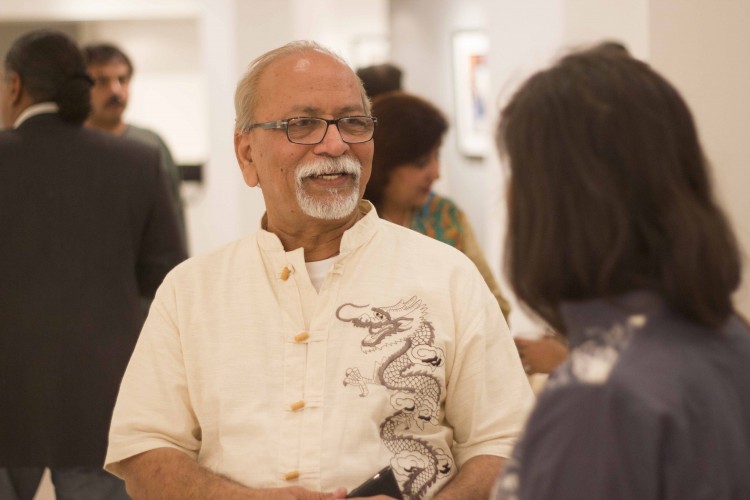 The discerning Ejaz Gallery in Lahore recently held a solo exhibition of Raza's work from the past five years. For takeaway work, Raza's book Mashkoor Raza's Journey, which is a compilation with Nadeem Zuberi, was also available for purchase. As followers of his work will know well, the dominant subjects in Raza's work have always been horses and women. This exhibition was no different.
The exhibited Mashkoor Raza paintings resplendently portrayed all the elements one expects from Raza's work: long strokes defining horses and men, images lost in abstract but found by light, beautiful silhouettes of women back dropped in hues of blue. As someone who loves horses and finds them to be majestic creatures, I fell in love with a monochrome canvas: three white horses, their outline and the outline of their riders cut out with sharp and indistinct strokes of black paint. It looked as if it was carved into the canvas.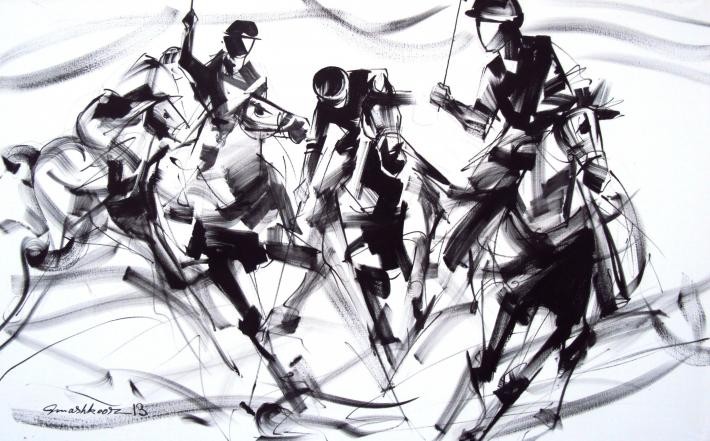 Raza plays with the liminality of his subjects—sometimes reducing them to shadows within his work. It's an exotic approach to painting women or horses. One would normally find the combination of the two strange, especially if the viewer sees a torso of a woman emerging, when seen from a particular angle, from a painting which predominantly depicts puffed-up horses in motion. But there is a certain harmony and tranquility on Raza's canvas even when the two forms are juxtaposed.
Raza's works show his preference for paler pastels. His calligraphy bears the same choice in colours. However it is his use of colours as a form of expression of the subject that gives his painting life.
Ejaz Gallery's exhibition is a quintessential Mashkoor Raza exhibition—something worth experiencing at least once.
Mashkoor Raza has had 31 solo exhibits all over the world, has had his paintings selected by the Albert Museum in London for their official collection, and is the recipient of the 2007 Pride of Performance Award by the Government of Pakistan. He is at the peak of his achievements, and still going strong.