Moor: the film, is in every sense of the frame a proverbial representation of slow and steady winning the race at the Pakistani box offices. In-spite of any glitz, glamour or hefty sponsors at its back, Moor: the film is one Independence Day release, that is still screening to packed cinema houses, nationwide.
Moor, meaning Ma or mother in Pashto, seems to perfectly encapsulate the ideology that revived the Pakistani film industry from the ashes. It introduces a simplistic story line about power dynamics, family values and principles that is unraveled in a riveting manner that keeps the audiences glued till the very end.
Moor: the film opens at serene location in Balochistan, where Ehsaanullah played by Shaz Khan, arrives to attend the post-funeral rituals of his mother. This mysterious death of Ehsaanullah's mother not just brings drastic changes to Ehsaan's life, but also leaves her husband, Wahid (played by Hameed Sheikh) at a brink of dealing with his own childhood demons. Wahid is a retired train station master who has nothing but a barren railway station land left at his disposal that he strives to protect from a land-grabbing mafia his elder brother is involved in.
The story thereon, revolves around Wahid being at a crossroad of choosing morals over money. While on one hand he longs for a comfortable livelihood that his elder brother promises in exchange of land, on the other, he is pulled down by the principals his mother and wife taught him in regards to his beloved railway station. Fighting an inner-battle of his own, all the way across town is Ehsaanullah who is residing in Karachi and is dealing with the wrong cards on the table.
The road to loyalty and justice is darker than the one both father and son is currently treading on. Will it be too late for both of them to figure the right path out? Or will Amber, Ehsaan's love interest and anchor guide them back home?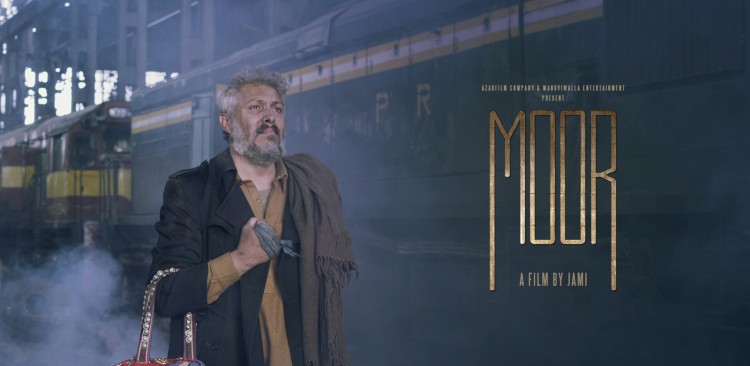 The debutant director and writer Jami Mehmood needs to be applauded not just for penning out an unique story line which brilliantly features the dilapidated conditions of the Pakistan Railway system, but also for being the man behind ace cinematography. This film manages to capture locations at Quetta, Muslim Bagh, Khanozai, Shelabagh, Bostan, Hyderabad, Sukkur and Karachi in a distinct manner. There are moments in the film where snow covered mountains dominate the screen with apt soundtracks playing in the background magically transports the audience into that very time frame, and leaves graphic images in mind way after the film has ended.
The actors, be it young or experienced, also play their characters to the T, making the film a pleasure to watch. To our delight, Moor fails to board the entertainment-bandwagon and follow the conventional means of targeting the commercial cinema. It runs strong in a league of its own and presents twists and turns that evoke patriotism in an extraordinary manner.
SiddySays Final Verdict: A film for mature cinema goers and visual effect enthusiasts.
[4/5 stars]