Hum Tum continues to bring in the laughter and cheers for its simple and honest comedy and its commentary on social issues such as girl child, flawed parenting and women's safety and empowerment. The latest episode had ample doses of both the elements.
The cast remains consistently perfect but Ramsha Khan and Junaid Khan are standout performers. The young actors are giving their best in every scene and displaying some incredible comedic chops and crackling dialogues. Read onto find out what happened in today's episode.
Neha(Ramsha) continues to have banters and playful fights with Adam(Ahad) which stem from her father's favoritism towards him and how he loves him like the son he never had. She dislikes him because there are times when her father favors Adam (Ahad) above all three of his daughters.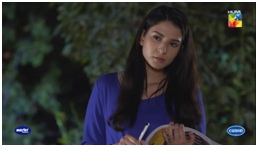 Sarmad (Junaid) on the other hand is head over heels in love with Maha(Sarah). He often cooks delicacies for her and sends it over through his younger sister. His face shines bright when he sends a Spanish omelettefor Maha(Sarah).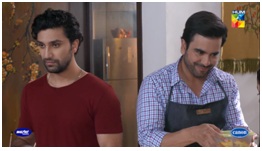 Neha returns Adam the money she owed him for pizza and tells him she doesn't need any favors from him.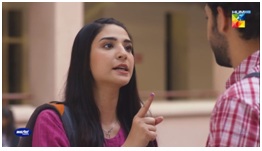 Sarmad, like the gentleman he is, offers to give Maha a ride when he sees her standing and waiting for her rental. His face crumples up when she calls him 'Sarmad Bhai.' It is a truly hilarious moment.
Despite his unfair ways, Neha can't stand anyone talking trash about her father. She fights with Adam's friend who accuses Neha of getting the best marks in the class on their presentation because her father is the professor. Neha launches at him in a fit of rage when he accuses Neha's father of helping her with the references. This shows how proud and protective Neha is about her father's credibility and reputation, like every Pakistani girl. We loved that side of her.

It's so refreshing to see how the characters in the show quickly move on from one situation and are their usual fun selves soon after something happens. They don't take themselves too seriously and live in the moment which should be the case. Usually, characters in other shows remain sullen and somber after a fight or an argument. Again, this is because of the brilliant writing. The scene in which Neha says Adam will be turning into silver from bronze because of his upcoming 25th birthday is laugh out loud hilarious.
While Neha is out shopping with Sasha(Anoosheh), two men trouble her by snatching her ice cream and riding away. Neha stops one of them and teaches him a lesson by beating him black and blue. Adam thinks she shouldn't have done that while Neha firmly believes that men like that deserve just that and even worse. Why should she put limitations on herself just because a man can't control himself? This was an important moment in today's episode.

Onlookers film the whole scuffle between Neha and the man which goes viral and Neha becomes the news for the day. Her father watches the whole thing on television and stops talking to Neha. She is surprised when she hears Adam convincing her father that what Neha did was right and this is the only way such scoundrel men will learn their lesson.
We love that the show doesn't become to social and preachy in its treatment. Even if it does talk about important topics, it is done in a light hearted and simple way that doesn't bore the audiences. We are enjoying the show like the others and can't wait to see what happens in the coming episodes. To read more about the show, watch this space and keep watching Hum Tum on Hum TV Network.