In the educational sphere, Nordic International School stands out amongst the rest owing to its unconventional approach of doing things differently to keep at par with all the leading educational institutions of the world. A firm believer of the notion that every child is indeed a star in his/her own capacity, Nordic aims to target its academic focus and personal attention to each individual; resultantly, polishing students' skills to the best of their abilities with the facilitation of its professionally-trained, hardworking teachers.
Nordic gives its learners a fair chance within a thriving environment to pursue their interests with passion and dedication which leads to their growth of knowledge in the most remarkable fashion. The school also believes in promoting and celebrating diversity, creativity and providing excellent opportunity to help its learners achieve the best results.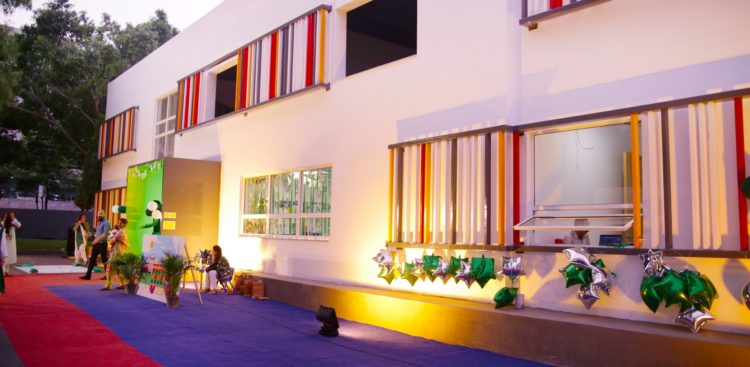 Tell us about the NIS. What does Nordic Is mean and stand for?
Nordic International School (NIS) Lahore is part of an international network of Nordic International Schools. Being a Pakistani Swedish joint venture, between the Saigol Group of companies and the Swedish school developer NordicEd, NIS
aims to work as a cohesive team in educating the stars of 
tomorrow
. The school recognises every student as a unique individual with the potential
to be a star in his or her field with confidence and sound values to connect, collaborate and communicate effectively. Through shared values, NIS teachers, students and families work together to achieve the goal of graduating con dent
students ready to adapt and make a positive impact on the rapidly changing world. Housing early years to grade 6, classes will commence in
September 2017.
What curriculum is the school following and how is it filling a gap in the market
NIS offers International Early Years Curriculum (IEYC), International Primary Curriculum (IPC) and International Middle Years Curriculum (IMYC) from the Cambridge system. The curriculum at NIS is developed as a unique Blended Model approach. English and Mathematics are taught based on the English National Curriculum enabling students to pass through the Cambridge Examination system. Multi-disciplinary, themed units have been selected to cover the remainder of the curriculum i.e. Science, The Arts, Social Studies, PE, ICT. Pakistani language and culture studies are taught by specialist teachers following the Pakistan Curriculum. Local and international examples and materials used within the curriculum are carefully balanced in each subject.
What is the USP of NIS
One of the USP's of the school is that it has combined the best of Pakistani education and its traditions with the best of International education. It places great importance on children being anchored in their local heritage. Another USP is the faculty which is an amalgamation of experts from around the world with a vast experience in the education sector.
Tell us about the senior management of the school and their experiences
The senior management includes :
Odd Eiken
Director of the Board of Glocal Schools and CEO of NordicEd
Mr Odd Eiken is a co-founder and owner of NordicEd.
He has an extensive background in international education and has established school operations in Europe, U.S, India and the Middle East. He is also a former Secretary of State for Schools in the Swedish Government and a respected advisor to Governments and international organizations on Educational policies and practice around the world.
Taha Zamir Hussain
CEO Glocal Eduproject
Mr Taha Zamir Hussain, has a track record of achievement demonstrated within the education sector over 12 years.
Taha worked as a Certified Chartered Accountant in a FTSE 100 company, before developing a keen interest in education. He brings skills to significantly impact the organization including resourcefulness and effective facilitation.
David Miles
Head of School
Passionate about school leadership and school reform, David has actively worked to improve school performance and enhance learning and teaching in the classroom. Over the past 8 years he has served in the Abu Dhabi Educational reform as leadership coach, subject advisor and teacher trainer.
David's career of more than 25 years in Education has afforded him opportunities to work in Wales, England, Turkey, Libya and lately in Abu Dhabi. These experiences have allowed him to live and work on 3 different continents which has given him a truly international perspective.
Beverly Linning
Primary Head
Beverly Linning has an experience of over two decades in the field of Primary Education. Before joining NIS, she crossed continents to take up appointments as Director of Early Years & Primary in Mclean, Virginia, Preschool Director in Fairfax, Virginia, a Design and Technology Specialist in Doha, Qatar, the Head of Primary Information and Communication Technology in Marbella, Spain, and Education Adviser and Education Consultant in Lahore, Pakistan.
Having taught in many countries, Beverly is familiar with a variety of curricula: The British National Curriculum of England and Wales, The International Baccalaureate – Primary Year Program, Cambridge Primary, and the Virginia Standards of Learning.
.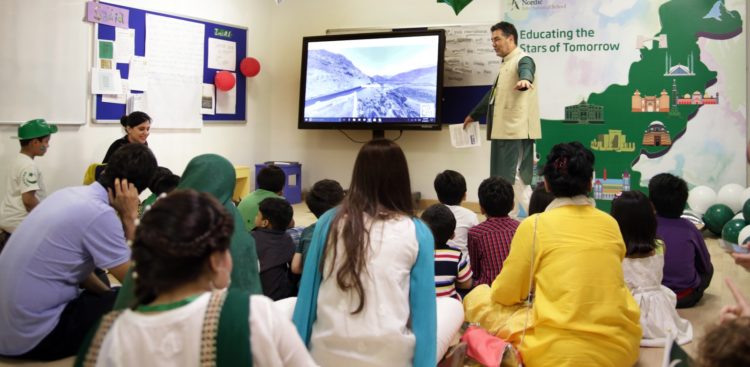 Is the campus purpose built and when can parents see the school
Although NIS is a boutique school located on a small site, it is able to boast a range of superb facilities and features for the betterment of students learning and experiences. The building is a modern refurbishment and has both local and Nordic influences, aimed at creating quality learning environments. Classrooms are inspiring but also designed to facilitate best practice teaching methods.
Apart from the classrooms, the school facilities for students include:-
– The Early Years Learning Centre
– The student Library
– Wi-Fi access across the school with student access to mobile computing technology
– A state-of-the-art ICT Laboratory
– Art Room
– Expressive Arts/Dance Room
– A multi-purpose Hall
– Roof Top Garden
– Well-appointed outdoor spaces with plenty of shade and seating for students
 Tours are available to parents on weekdays from 
8am to 4pm
Why would anyone want to send their kids to NIS
NIS offers the best faculty from around the world brought together under one roof to ensure that students get the education they need that can help them grow into global leaders.
What are the principles of the school. What is the emphasis upon.
Nordic core principles and philosophy are summed up:
WE ARE A TRULY INTERNATIONAL, RESEARCH BASED SCHOOL THAT IS ORGANISED AROUND THE INDIVIDUAL PUPIL. WE ASPIRE TO CREATE GLOBAL LEADERS WELL ANCHORED IN THEIR LOCAL HERITAGE