Sinf-e-Aahan ep 7 was hilarious and we thoroughly enjoyed the 40 minutes that showed some great comic timing and learning from Kubra, Dananeer and Shazia. And it was also a great shift from the intensity of Sinf-e-Aahan ep 6, which left us teary-eyed from Sardar and Jamal's confrontation. So, from the girls expressions to their shock and disappointment and their dialogue delivery was brilliant.
Therefore, Sinf-e-Aahan ep 7 was the first step that our girls took in PMA, once their families (almost) left – except for Mahajbeen's who kept coming back, thanks to all the things that had brought considering the kind of lifestyle she has lived. But at PMA it was time to cleanse, refresh and re-start a new life, which none of the girls were prepared for. So, it was truly invigorating to watch Mahjabeen, Rabia, Pariwesh, Sidra, Arzoo, Nathamy and Shazia in one frame.
View this post on Instagram
PLATOON LEADER, MAJOR SAMIA WAS A SURPRISE
Apart from our leads, it was Major Samia who took command of ep 7. We loved how she approached the parents and cadets with ease, while listening to their concerns like Sidra's love for bakery items and Mahjabeen's habit of sleeping in late, to assuring them of the facilities that they'd be provided. But, once the the settled, is when the chaos begun and she was a whole different person once the ladies stepped in their roles. And we just could not stop laughing. To getting Mahjabeen's vanity and accessories to her car and getting her hair dyed, the emotional upheaval was balanced with quick comic timing with Kubra's performance.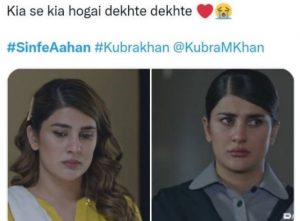 MAHJABEEN & RABIA'S SILENT WAR!
The war or revenge (if you'd like to call it) between Mahjabeen and Rabia has begun that they made evident with their smirks when the other was being reprimanded. I'm glad that they didn't turn it into a "i'll-do-better-than-you" war of their egos.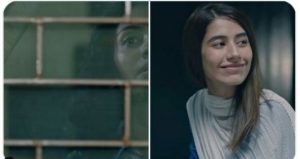 THE GIRLS PAIR UP TO SHARE A ROOM
We were excited to see who all would be sharing the room together. So when Rabia ended up with Shazia and Mahjaeeb with Pariwesh while both Pariwesh and Shazia know what's the reason behind the tiff between Rabia and Mahjabeen, I like how Shazia and Pariwesh showed bias-attitude towards their friends. And then there's competition between Rabia and Shazia also (which was equally hilarious). Arzoo ended up with Nathamy and I feel they have similar personalities being silent and observant and then Sidra on her own with another cadet.
View this post on Instagram
OUR VERDICT
Over all, Sinf-e-Aahan ep 7 was such a fun watch. While you watch the episode, you never forgot how this drama endeavors to break gender stereotypes and every characters struggle to get to where they are right now. We also loved how we also get to see the Pakistan Military Academy and what goes on behind close doors. While we thought that Yumna, Kubra and Daneer got the most screen time as compared to Sajal, Ramsha, Saria and Yehali, but we look forward to seeing them more.