[tps_header]As the homeland turns 70, we have nothing but love and gratitude for our country. They say there is no place like home, and that is absolutely true. Despite economical and political turmoil the country has faced, Pakistanis have emerged as a Sooper resilient nation every time. PAKISTANIS WE ARE SOOPER PROUD
Now being a woman is not easy, and in a society like ours it becomes especially difficult to dream and achieve those dreams. But not for these ladies on our list. They are courageous, talented and have fought many odds to achieve their dreams. We are Sooper proud of them and cant wait to see what is next for them![/tps_header]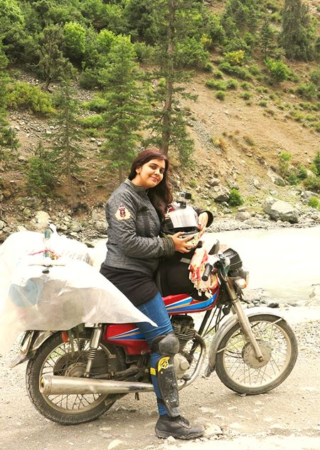 Zenith Irfan
At 21, Zenith Irfan is busy breaking stereotypes and living the dream her late father had, seeing the world on a bike.
She was the first Pakistani woman to travel through Kashmir and reach the Khunjerab Pass, bordering China on a motorcycle in 2016 at age 21.
We wish her all the best….