There are many home stores in Pakistan (very, very good ones!) that work with furniture and with items for households but there is none quiet like Address. Why, you ask? Well, the reason Address stands out is because it works with unique concepts based over a four storey building featuring one idea per storey: retro, classic, contemporary and glamour. The store is owned by Saba Pervez Dada and her brother Sameer Pervez Dada. We got the chance to speak to Saba about her journey to Address. Here is everything we know!
Who is Saba Pervez Dada?
Interior designer/entrepreneur.
Tell us a bit about your childhood and your educational background.
I lived 5 years in London. I studied at Royal Holloway and then did my masters at London School of Economics in Labour Politics. After I graduated I pursued my childhood dream of becoming an interior designer so I worked with Principle architect/interior designer Naheed Mashooqullah for almost 3 years until I became Head of residential Interiors and then ventured into my own family business.
What does your journey to today look like? 
My journey has been long, consistent and a lot of hard work. I believe there is no point of doing something if you are not passionate about it. I love interiors and could dedicate my entire life to it! Hence, I am quite content and happy with the way life played out its cards and where my career is at present.
How did the idea of Address came about? What was your inspiration?
I always wanted to join my family business because i saw a lot of potential in it. I realized there was a gap in the market and hence that is where the idea of Address came into being. An interior designer gets inspired by a million things! One of the major inspiring factors behind Address was to create a one stop solution that caters to every consumers individual requirement and provide a platform that provides everything.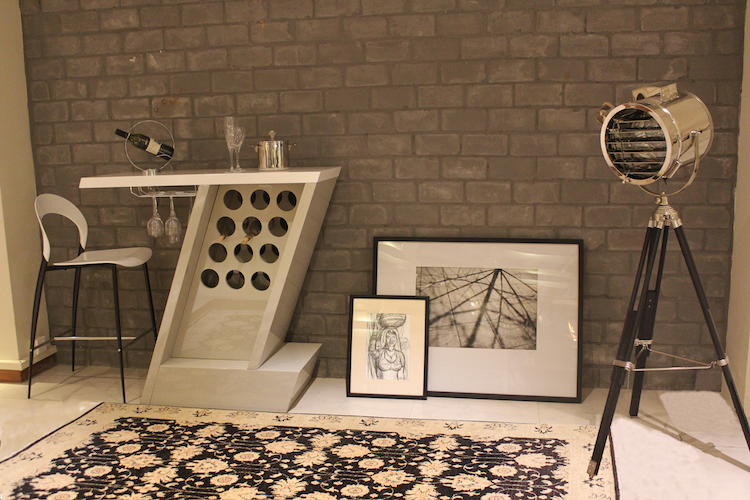 What is the unique thing about Address? 
The unique factor about Address is that it is a concept lifestyle store. It has different concepts such as contemporary, classic, rustic, urban etc. For example, you will spot a classic study/cigar room with oak wooden panel and brass details or a super modern room with mirror elevation in straight lines.
What are some of the services that Address provides?
Apart from being a retail store that provides high quality furniture, lighting, wallpaper, accessories, art gallery, Address also offers interior design services which includes making layout, furniture presentation, mood boards, wall elevations, 3D views, false ceilings etc. This is part of our hard interior services which involves a lot of architectural work.
Tell us about the one project that you absolutely loved working on.
In all my career as an interior designer, i loved working in my son's nursery while I was pregnant. It is a complete labour of love from the soul! It was the first nursery I have made and one which proved to be very lucky to me.
What is your creative process like? How do you conceptualise a home piece
A concept is everything to me! I look at a space and the concept comes to me itself. I feel every space has a unique story to tell and a personality of its own. One just has to close its eyes and imagine! Creativity is an innate gift that interior designers possess 🙂
Are there any plans of expansion in other local cities?
Absolutely! We are already looking into and in another country as well.
What can we expect to see from you in the coming future?
In the near future you will see an exciting brand new kids furniture line, some exciting diversifications and collaborations.