SiddySays recently visited The Noodle House and we remember when they first opened shop in Lahore- we had heard great reviews and they were true to the letter. The food was very good- always served warm and tasted great. For those of you who haven't yet been to The Noodle House, it is a Dubai based chain that has propped up in several locations internationally. The cuisine served here is essentially South East Asian with the flavours very close to authentic.
The Noodle House has, what some may call, a limited menu. We go by a simple rule when it comes to restaurants, which we think most people go by as well; serve what you want to but make sure it tastes damn good! Restaurants with 'everything is available' menus are often a no-go for us. We'd much rather have seekh kebabs from a dhaba we know will serve us downright amazing kebabs than a restaurant with an amazing location that serves everything. The Noodle House has a limited menu with the aim of serving you the best of what they offer.
Our recent visit to The Noodle House was a reminder of why we loved their food in the first place!
Whilst we decided on our order, we were served fish crackers that were, as the baby member of our team, Alyssa put it, 'yummy'! In fact they were so good, that in order to satisfy our hunger, we followed suit and started nibbling on them.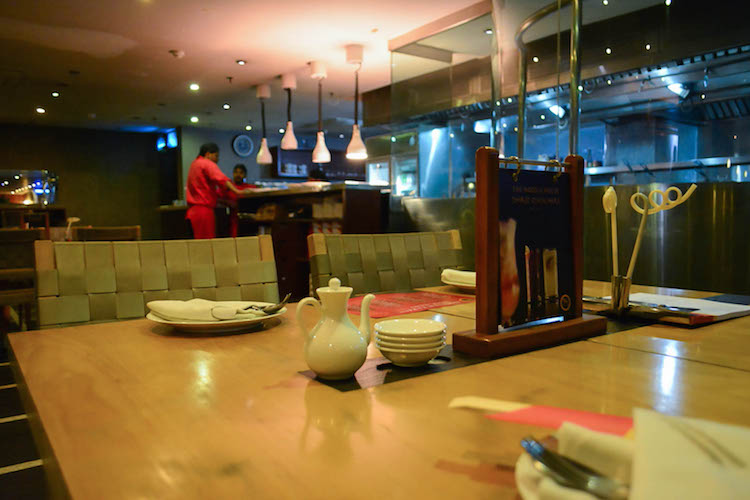 What we ordered
Starters:
Chicken Siew Mai Dumplings
Chicken Corn Soup
Mains:
Crispy Chicken with Plum Sauce
Stir Fried Chili Chicken
Black Pepper Beef
Sweet and Sour Fish
Sides:
Jasmine Rice
Stir Fried Mixed Vegetables
WE LOVED:
Chicken Corn Soup: This was ordered for Alyssa and, taking cue from the fact that she ate most of her soup, it was quite nice!
Crispy Chicken with Plum Sauce: This was an item we had not had before. The chicken was crispy on the outside whilst retaining all the moisture. The plum sauce was just the right amount of sweet and complemented the chicken.
Black Pepper Beef: We are well fussy about beef but this was beautifully cooked! The black pepper sauce was great, well balanced without the error of overpowering peppers, as is the case at most places. The beef was so well cooked that it literally just melted in my mouth. It was not a struggle to chew- in fact we didn't even have to make the effort.
NOT SO MUCH:
The Chicken Siew Mai dumplings were a bit starchy, though the filling was well-seasoned. Dumplings are very hard to balance and are not as simple as they look!
All in all it was a great experience. The food was exceptionally good and was served hot, the waiting staff was very friendly and the ambiance was great- no loud music and not a lot of background noise. It is a definitely recommended place for a casual not too fussy dinner out!