For the past couple of weeks, Calgary has been the envy of Ahad Raza Mir fans the world over since we have the amazing opportunity to see him live in theatre. Hamlet is running at Vertigo Theatre from March 20 to April 13, 2019, as Ahad returns to his theatre roots in Canada. If you're wondering how does TV/film Ahad compare with Theatre Ahad, I have all the answers for you, along with a special interview!
Being an ardent fan of Ahad Raza Mir, I went to see Hamlet on March 20, the first night of public viewing of the Shakespeare classic at Vertigo Theatre, located at the base of the Calgary Tower in the heart of downtown Calgary. Since that first night, Ahad has continued to enthrall audiences with his amazing performance and the theatre has been packed with full crowds.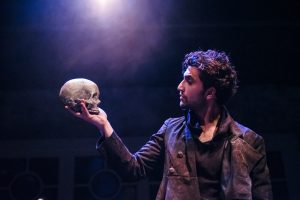 Ahad owned the character of Hamlet and does full justice to the angst, despair and madness the role demands. He was telling a story not just with his lines but his expressions, body language and voice. He showed his mettle as an actor and delighted the audience with the depth of his talent.
As a fan of Ahad's work from TV and film, it was a treat to watch him perform two feet away. Also watching him perform in theatre you realize what a different and difficult medium it is (and that too with long lines in Shakespearean English).
When I asked Ahad, how his theatre experience has helped his other acting work, this is what he had to say:
"I think theatre has helped me be more emotionally available and understand why a character makes certain decisions and feels the way they do. A dramatic scene just doesn't happen with tears in your eyes, but with your voice, eyes, body languages etc. Theatre has taught me to take all these elements and explore it at a vast level. When I'm on stage, I want to make sure that the person infront of me gets the same performance as the one towards the back. Theatre teaches you how to go to your extreme and then come back. And I have been extremely fortunate to get the theatre experience along with the TV and film one now. It's interesting actually how much I have internalized from my acting experience in Pakistan. I have worked with my current director in Hamlet before also, when I had just graduated and he commented, that yes, I can see how you have changed."
Ahad began his acting career in Calgary and treats the Shakespeare Company as his home. He has come back to theatre after three years and is thrilled to be back on stage. He is quite the crowd puller since more than half of the audience at every show are there to see him.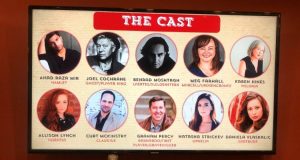 He is being equally praised by both his existing fans and the new ones he has made because of his performance as Hamlet. Ahad being his humble self has happily posed with his fans who have come from as far as Toronto and Edmonton to see him perform in Calgary! Thanks Ahad for putting Calgary on the map!
Written by:
www.UrduMom.com www.Facebook.com/UrduMom www.Twitter.com/UrduMom www.Instagram.com/UrduMom
Tamania blogs as Urdu Mom, passing on the love of language and culture to the next generation.