You may be guaranteed to find video content on TikTok that is simultaneously wonderful, mind-blowing, and life-changing. The social networking platform never ceases to amaze us with some of the silliest life hacks we've come across thus far, particularly when it pertains to everything related to beauty.
Check out some of the Viral TikTok beauty tricks to try in 2022.
HACKING FOUNDATION-IN-WATER
Since the summer has been wonderful so far, it stands to reason that TikTokers would do anything to maintain their makeup all day long. The foundation-in-water hack has received millions of clicks for just this reason. The brain behind it is @bodywhy official. The TikTok star squeezes base into a water beaker in a video with 4.3 million views. The makeup settles to the bottom as you might anticipate until a fast spin lifts it to the surface of the liquid. They then use a spatula to put the base on their faces at that point. Once mixed, the outcome is quite flawless, but that isn't what stands out. The foundation is then completely covered in water by @bodywhy official to show that it is now impermeable and water-resistant.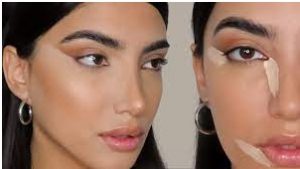 CONCEALER FOR A FACE LIFT
The triangular shape has been the preferred concealer application technique for the past few years. Instead of giving the cheeks a plucked appearance, this draws attention to the pay a lower of the cheek. Less is more, in contrast. For contour, dab a tiny bit of concealer on the inner corner of the undereye and the side of the nose. A lot of concealers might cause wrinkling and should not be applied over areas where you may have lines and wrinkles.
Then, using an upward movement similar to a winged liner, apply concealer to the outside portion of the under-eye. This will lift that part of the face like a highlighter. A beautiful illustration of this is provided by great makeup artist @scortezzbeauty.
HACK FOR FULLER LIPS
Recent TikTok @alissakrn videos demonstrating to their fans how to get a poutier lip look have gone viral. They grab a brown liquid eyeliner pen and trace two really fine lines from the outside borders of their lips inward after having lined their lips and applied some lipstick in the middle. The outcome? bigger and more defined-looking lips. Given the several million views, it didn't take long for TikTokers like @jawashare to stitch the video together and earn millions of hits as a result. Yes, the hack gives the appearance that lips are a little larger, but it is by no means effective.
SETTING MAKEUP WITH A WET TOWEL
To prevent makeup from sliding, splitting, or wrinkling, beauty dweebs use a generous amount of face powder and a moist wet wipe.
The hack appears to have been shared online for the first time by TikToker @sayri Reyna. She finishes applying her makeup and uses a wipe to press the translucent setting powder onto her skin.
Sayri applies "a ridiculous amount of powder," then presses a damp paper towel against their skin while holding it up to the camera to demonstrate that not a single trace of makeup is present on the sheet. A short brush of the finger demonstrates how securely applied their makeup is.
HOMEMADE LIQUID BLUSH
Blush is unquestionably one of our favorite products—just imagine all the colors and formulas available!—so when we learn about a technique to stop adding it to our shopping carts, we're all ears. Take off some of your favorite powder blush and mix it with a few droplets of moisturizing primer rather than searching for a liquid substitute. The outcomes are self-evident.
In conclusion, only use the parts of these hacks that you find to be effective for you. If your regimen is effective, there is no need to attempt anything new. After all, why fix something that isn't broken? But maybe one of these tips will make your makeup regimen a little bit simpler or faultless.