We're wrapping up 2021 because Pakistan's an eventful nation and everything happens, either all at once or not at all. And as we are near to ending 2021, here are a series of events that happened over the course of 1 year, events that stood out, made us pause and wonder!
So here's to wrapping up 2021 and all that went down each month.
PS. All the information in this article has been sourced through multiple news and media articles.
Just got sent this. Sick to my stomach. No words for our eNgLisH fLueNt elites. Never seen more tone deaf women with this confidence. pic.twitter.com/5eIj9hWOnZ

— N (@__Dragunov) January 20, 2021
JANUARY: CANNOLI CAFE INCIDENT
People have called out the behavior of Cannoli Cafe owners, Uzma and Thea as elitist, tone-deaf, and plain prejudicial. after these 2 ladies were slammed on the internet for their insensitive remarks towards their manager. Awais in a viral video over his inability to speak English.
The two women elaborated how their manager, Awais has been working with them for nine years and has taken three English language courses throughout that duration. Then they asked him to introduce himself, which he did. Yet despite him being an able communicator, Uzma and Thea felt his fluency wasn't up to the bar.
Especially given the comment about Awais' salary and implying that he didn't do his job right just because he isn't fluent in a non-native language.
The two ladies faced severe backlash with a hashtag #BoycottCannoli and some users went on to say:
I am just amazed that in their little pathetic previledged world they felt that once the post this video people wil actually find this funny. They humilated a poor man, who works hard for his income not to become content of their crass humour.
FEBRUARY: PAWRI GIRL DEBUT
abc
View this post on Instagram
MARCH: UCL EXPELLED STUDENTS ON PROPOSING PUBLICALLY
The management of UCL expelled two students who took notice of PDA within the vicinity on Valentines Day. Their video went viral on social media, in which a girl proposed to a boy publicly in the university where everyone else was lauding them while making videos and taking pictures.
View this post on Instagram
APRIL: AMIR LIAQAT'S VIRAL NAAGIN DANCE
Amir Liaqat joined the list of some "hi-fi" content creators after his naagin dance video on a Ramzan show went insanely viral this year. He is known for his bizarre antics to get TV ratings so there was a divide in opinions but majority was offended by him. Considering he's a so-called Islamic Scholar, his cheap tactic to keep the audience engaged during the Ramzan transmission was belligerent.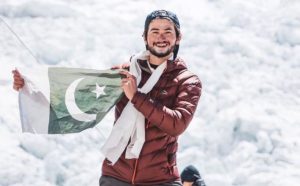 MAY: SHEHROZE KASHIF BECOMES THE YOUNGEST MOUNTAINEER AT 19 TO SUMMIT MOUNT EVEREST
Hailing from Lahore, Kashif is also the youngest Pakistani to have climbed Broad Peak (8,047m) at the age of 17. He used supplemental oxygen on his climbs to Broad Peak and Everest.
His expedition to Broad Peak earned him the title "The Broad Boy".
Footage of adviser to Punjab's chief minister Firdous Ashiq Awan physically and verbally assaulting Pakistan Peoples Party MNA Abdul Qadir Mandokhel during a talk show appearance has gone viral.#etribune #FirdousAshiqAwan #ViralVideo pic.twitter.com/0Ncn49O2P1

— The Express Tribune (@etribune) June 9, 2021
JUNE: FIRDOS ASHIQ AWAN ABUSES & SLAPS PPP LEADER ON NATIONAL TV
The news of Firdos Ashiq Awan lashing out on AC Sialkot when she was seen offending PPP Leader and what we saw and heard was an abuse followed by a slap. Apparently Pakistan People's Party MNA Qadir Mandokhel  had harassed her so she reacted and blew up.
The incident happened during the recording of Javed Chaudhary's show.
Later, in a tweet, Firdous Ashiq Awan claimed Mandokhel had used foul language which angered her and that only a one-sided story was being shared in the video.
She also asked the TV channel to release the full video. She said, "During the talk show, PPP's Qadir Mandokhel threatened me. He insulted my late father and me by using abusive language. I had to take an extreme step in my defence," Awan tweeted along with a video statement.
View this post on Instagram
JULY: SADAF KANWAL INCITED ANGER ON HER VIEWS ON MARRIAGE & FEMINISM
Sadaf Kanwal being trolled on social media is a permanent thing now. For being called a home wrecker to her rules on marriage and statements on feminism got this model in major trouble and hit list of people to make fun off. For Sadaf, her rules are simple, 'you should respect and know everything about your husband and it does not matter whether your husband knows about you'; – and that's when things blew up.
To add to that, things got more awkward when Sadaf explained her views on feminism as she blamed feminists for the rise of 'liberals' in society,
For Sadaf, Pakistani society, culture, and everything are about 'husbands'. "I have to pick up his shoes, iron his clothes (which I seldom do, but I know where they are kept). I should know where her husband's stuff is and what and when he has to eat,"
And that has just left everyone feeling beligerant and in wonder if that's what every woman's end goal in life is?
View this post on Instagram
AUGUST: MINAR-E-PAKISTAN ASSAULT CASE
14th August 2021 became tainted for many Pakistanis as they watched in horror a woman being harassed, groped and manhandled by a large group of men. The victim, a TikToker named Ayesha Akram, claimed that over 400 men viciously attacked her and she was harassed for three hours straight at the Greater Iqbal Park. She earned the nation's sympathies for her ordeal which came to be known as the "Minar-e-Pakistan Incident" and people questioned just how safe women are in the country. However, once the police started investigating the entire matter and interviewed several people as the story developed, everyone wondered, was the whole thing staged? What happened after that is all in the news!
Why this lady didn't Google what Formula 1 is before the show? pic.twitter.com/5rhsFpyuWD

— Ali Qasim (@aliqasim) September 4, 2021
SEPTEMBER: NIDA YASIR TROLLED OVER FORMULA 1
The trolls continued trolling Nida Yasir for weeks.
Nida Yasir become a top trend on Twitter after a clip from her show went viral from the interview aired in 2016. "How many people can fit the car?" is what the viral clip begins. Nida is interviewing two young men in suits who have a hard time explaining to her the dynamics of a Formula One car, which is a single-seat racing vehicle.
"So, you have started with one [person], small car?" To this, one of the men very politely explains that a Formula car can only accommodate one rider.
"So you have just invented the formula yet?" Nida says. "Have you experimented?"
After a lot of confusion, Nida wonders whether or not Formula One works just like the "petrol wali gaari". She inquires about the horn too.
Being a Junoon fan, i am embarrassed… pic.twitter.com/qt36TzE7Ye

— فاطمہ عرفان (@fatimairrfan) October 19, 2021
OCTOBER: ALI AZMAT CAME UNDER FIRE FOR DISRESPECTING MADAM NOOR JEHAN
"In my childhood, Noor Jehan used to sing on a show draped in Saari with big earrings and over makeup on. We used to hate that woman; she was a Maai even at that time"
"Looked like a meatball, she was an old age woman at that time and we used to think that we don't need to watch it", – and that was it for Ali Azmat the rockstar to get ridiculed for his insensitive remarks for Madam Noor Jehan.
He continued with his "derogatory, sexist, and ageist remarks calling Noor Jahan meatball and an old woman who use to sing at that time, while he said that we didn't need to watch it".
He further said, "at that time we accepted other cultures and now it has become a norm. Meanwhile, the host tried to calm him down and defend the legendary singer "she was graceful". But Ali Azmat didn't stop saying what he wanted.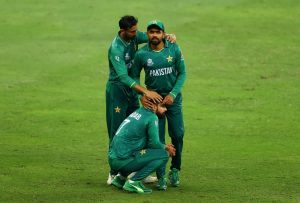 NOVEMBER: WHEN PAKISTAN LOST T20
With a perfect record in the group stages – five wins out of five – Pakistan seemed destined to reach its third T20 World Cup final. But Pakistan lost to Australia the second semi-final, what could have been a miraculous win.
But what seemed to be a big loss, turned out to be a gain as the Pakistani cricket team became one.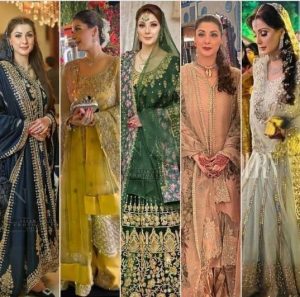 DECEMBER: MARYAM NAWAZ' WEDDING LOOKS
More than Junaid Safdar, it was Maryam Nawaz who trolled, appreciated, mocked, loved for her wedding looks and accused to trying to steal the bride's thunder by dressing up like a newbie bride herself on her son's wedding. There were different groups of people who for their love or hate for PML-N, exploded with their feelings for Maryam Nawaz and literally made a big hoopla of Junaid Safdar's wedding.