Essential oils have seen a rise in the past few years because people have become more and more aware on how beneficial they are for your overall health due to their holistic and safe approach.
From being incorporated in day-to-day lifestyle and beauty products, and health, essential oils have proven effects on the human body. Therefore, we're going to share with you the 10 best essential oils that act as a catalyst for your overall health.
So, if you're bothered about your lack of sleep, or are struggling with hair loss and even high blood pressure, our mini guide will help you find the right fit for you!
HOW TO CHOOSE THE RIGHT ESSENTIAL OIL
No matter what type of essential oil you decide you love best, try to choose one that isn't manufactured via a chemical process. Chemical distillation can dilute or contaminate the essential oil, reducing its efficacy and scent.
Essential oils that are packaged in amber- or dark-colored glass bottles tend to last longer without becoming rancid. Don't purchase oils that are housed in plastic, as this may also alter the oil and its scent or contaminate it.
Check the ingredients on an essential oil bottle to make sure that it's pure and contains no additives. Only choose oils with labels indicating that the oil inside is 100 percent pure.
WHAT RATIO TO USE WITH THE DIFFUSER
When using essential oils for aromatherapy, follow the instructions provided with your diffuser, since diffuser sizes vary. Typically, the ratio will be 3 to 5 drops of essential oil to 100 milliliters of water.
Although diffusers are one of the more popular choices, there are other ways to use essential oils.
You can inhale your oil of choice directly from the bottle or apply it to some cotton and place it in your car's fan vent. If you have a humidifier, you can add a few drops of the oil into its tank.
If you want to apply essential oil to your skin, remember to dilute the oil with a carrier oil first to avoid irritation or allergic reactions, hence the patch test.
It's also important that you never ingest essential oils.
TYPES OF ESSENTAIL OILS AND THEIR USES
PEPPERMINT OIL FOR DIGESTIVE ISSUES
Best for: IBS and other GI conditions, headaches
Pros: energizing, cooling, fresh
Cons: not safe for people with G6PD deficiency, people taking certain medications, babies, children, or pets
In addition to having a delightful scent that many people associate with winter holidays, peppermint oil has health benefits for athletic performance and can improve irritable bowel syndrome (IBS) symptoms. It's also a choice for some looking to ease headaches which is just great.
LAVENDER OIL FOR BEST SLEEP
Best for: stress relief, help with sleep
Pros: calming, can use as massage oil (when mixed with a carrier oil)
Cons: may cause an allergic reaction for some; unclear if it's safe for pregnant or breastfeeding people
Lavender essential oil provides a soothing and relaxing scent. It's often used in aromatherapy to relieve stress. Lavender oil also makes an excellent massage oil when mixed with a carrier oil. Lavender is also a good choice for people looking to improve sleep.
TEE TREE OIL FOR FIGHTING GERMS
Best for: antibacterial and help for minor fungal infections
Pros: can be used to help dandruff, head lice, athlete's foot
Cons: can irritate eyes, not pet-safe
Tea tree (melaleuca) oil is thought to have antibacterial and antifungal properties. It's used in wound care, to eliminate head lice, and to control dandruff.
Tea tree oil can be added to shampoos or used in diluted form on the skin for minor fungal infections, such as athlete's foot. It can be irritating to the eyes though!
CHAMOMILE OIL FOR ANXIETY
Best for: anxiety relief
Pros: can also help with digestive issues (gas, nausea, indigestion)
Cons: may interact with some prescription medications; unclear if it's safe for pregnant or breastfeeding people
The comforting scent of chamomile has coaxed many people into slumber over the centuries. Chamomile essential oil has multiple benefits for health, including anxiety reduction.
One small 2018 study on chamomile therapy found it lowered anxiety symptoms and also helped by increasing morning levels of a hormone known as cortisol — low morning levels of cortisol have been connected to anxiety disorders.
EUCALYPTUS OIL FOR COMMON COLD
Best for: nasal congestion, cough, reducing mildew odors
Pros: can be used as an insect repellent, can help with relaxation
Cons: can cause allergic reactions for some
The refreshing and distinctive scent of eucalyptus essential oil can help eliminate mildew odors. Eucalyptus is also beneficial for calming coughs and relieving nasal congestion.
This version can be used in humidifiers and other aromatherapy devices, such as diffusers. This particular oil is steam-distilled and sourced from the plant's leaves.
CLARY SAGE OIL FOR BLODD PRESSURE
Best for: relaxation, lowering blood pressure
Pros: considered an aphrodisiac in some cultures
Cons: not a good choice for those with low blood pressure, not for use with pregnant people
LEMON GRASS OIL FOR STRESS RELIEF
Best for: relieving tension, anxiety relief, massages
Pros: contains antibacterial, anti-inflammatory, and antifungal properties
Cons: may cause an allergic reaction for some — possible side effects can include dizziness, drowsiness, increased appetite, and urination; pregnant and breastfeeding people should avoid it; those with conditions like diabetes, liver disease, asthma, and those undergoing chemotherapy should first talk with their doctor
It's a popular room freshening scent, and it's found in slews of personal and household products and may also promote help with stress and anxiety.
Ps. mostly people are allergic to this oil so it's wise to speak with your doctor first.
ORANGE OIL FOR MOOD BOOSTING
Best for: lifting mood, lowering stress
Pros: can be used as a household cleaner when diluted
Cons: can cause an allergic reaction for some, can also cause a painful skin reaction when used topically in the sun
Orange has its hand in helping out with things like pain relief and stomach issues. Like lemongrass, it's also thought of as a natural household cleaner and room freshener. We have it on our list for its mood-boosting ability.
CEDARWOOD OIL FOR DANDRUFF AND HAIRLOSS
Best for: hair conditions like dandruff and hair loss, popular cologne fragrance
Pros: contains antifungal and antibacterial properties
Cons: people allergic to cedar must avoid it
Cedarwood essential oil can be found in a number of everyday products — cologne, shampoo, deodorant, and bug repellent, to name a few — and it has some potentially helpful properties for hair conditions like dandruff and hair loss.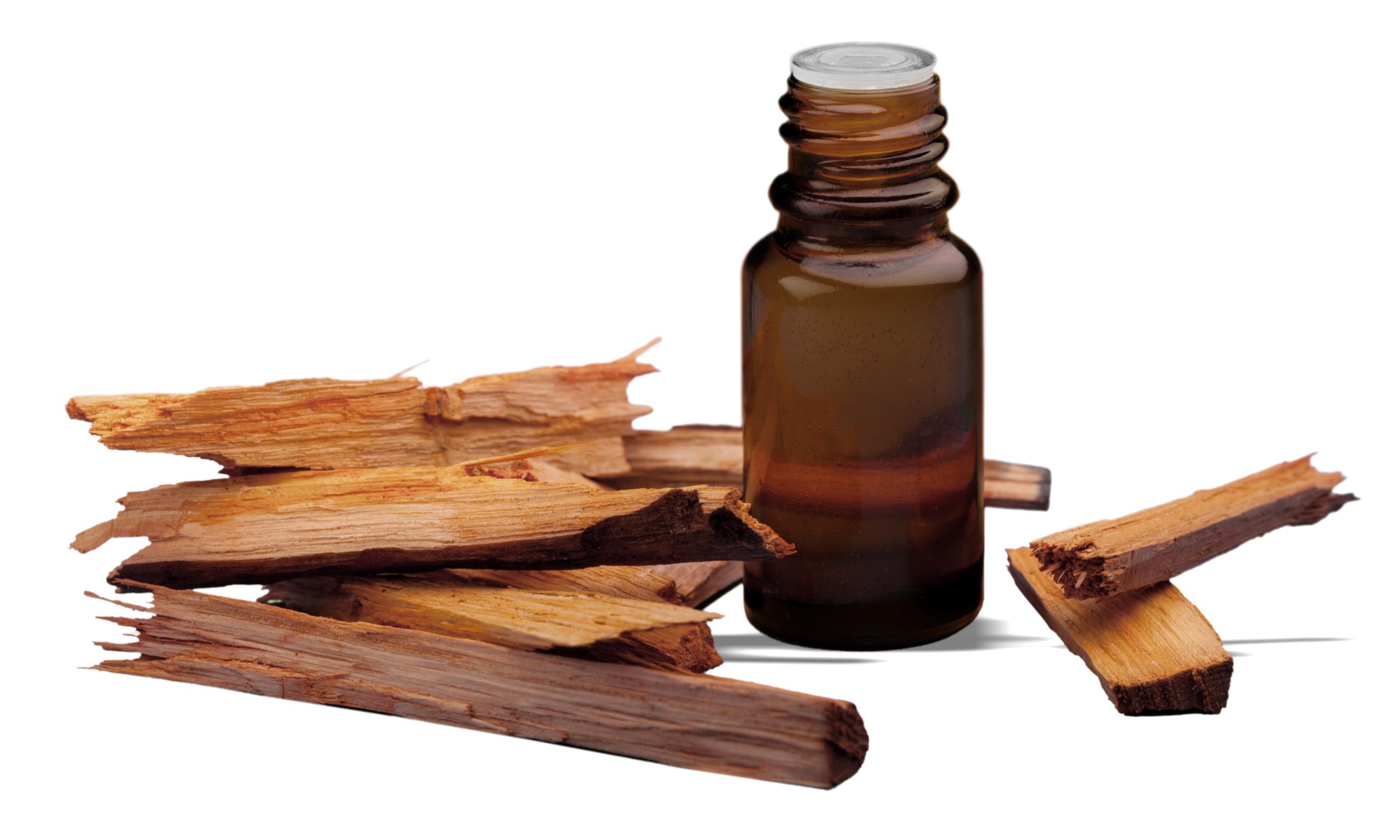 SANDALWOOD OIL FOR MULTIPLE SKIN BENEFITS
Best for: possible help with skin conditions like acne, psoriasis, eczema
Pros: contains anti-inflammatory and antimicrobial properties, contains antioxidants
Cons: may cause an allergic reaction for some
Sandalwood contains anti-inflammatory properties, and some clinical studies have suggested this means it may have some dermatological benefits, including improving conditions like acne, psoriasis, and eczema, to name a few.
Sandalwood also contains antioxidants, which are thought to help improve wrinkles by fending off free radicals.
It's best to visit a derm for major skin conditions like the ones mentioned above.